Default template #
After integrating your website with ConnectPOS, a default receipt will be created when you first open the POS.
Please note that you can still update this template to your liking.
Create a new receipt template #
To create a new receipt template, please follow these steps:
Open Setting –> POS Setting –> Receipt.
Click on "Add New Receipt" button.
A new receipt draft will be created.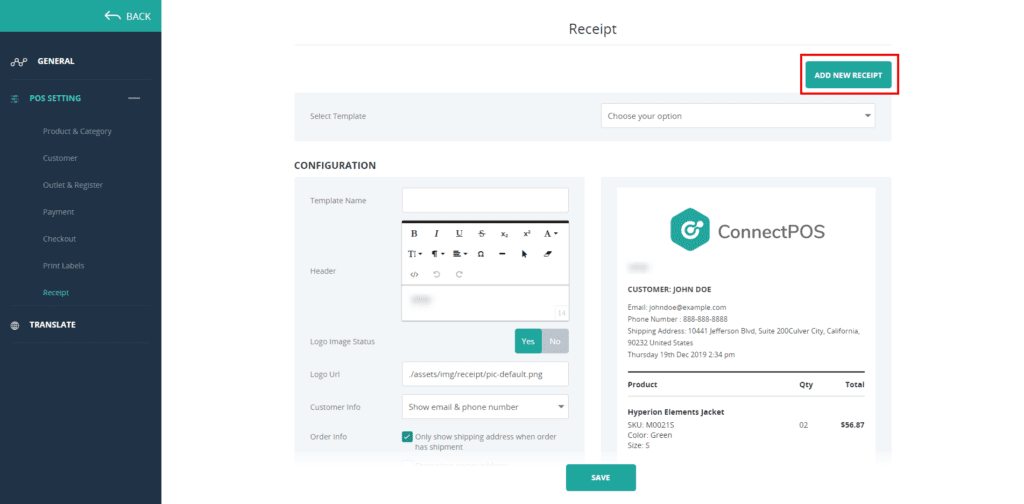 For a new receipt template, only "Template Name" is a required field. All customization below are optional.
Click on "Save" to create your new receipt template.
Template Customization #
The following details on receipt are customizable:
Company Info: Show your company's information on the receipt (Asdress and Phone number).
Header Logo: Toggle, allowing you to enable/disable receipt header logo.
Logo URL: Put your logo image url here.
Header Align: Choose how your header will be displayed, with the option to adjust Title and Title Alignment.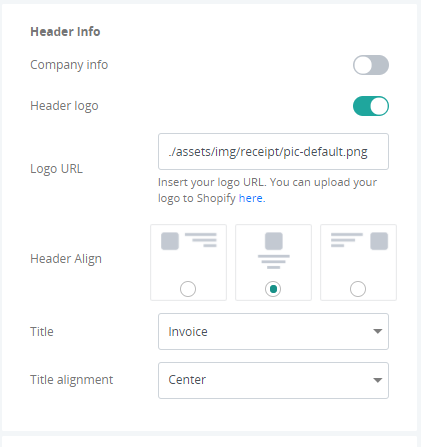 Order Information: Show additional information about the orders as below:
Customer Info: Show your customer's email and phone number on the receipt, available options are:
Show email and phone number.
Show email only.
Show phone number only.
Don't show email and phone number
You can also customize other relevant information. Some other additional options are:
Show Date & Time label
Show order ID instead of order number
Sales person
Shipping address
Top category
Discount per item
Row total include tax
Subtotal include tax
Show unit price of items
Show discount, shipment amount if they're zero
Show tax amount equal to 0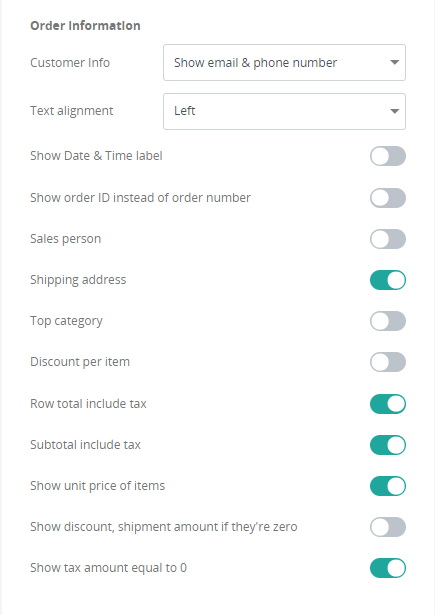 Show Signature: Toggle, show the area for your customers' signatures.
Footer: Footer text on your receipt.
Order Barcode: Toggle, show order barcode on receipt.
Show Digit Code: Toggle, show numbers of the barcode.
Barcode Symbology: Your barcode symbology type. Supported format are:
Code128 Auto.
Code128A.
Code128B.
Code39.
MSI Series.
Footer image: Toggle, show your logo image on footer of receipt.
Image URL: Your footer image url.
Powered Text: Show ConnectPOS Powered Text on your receipt.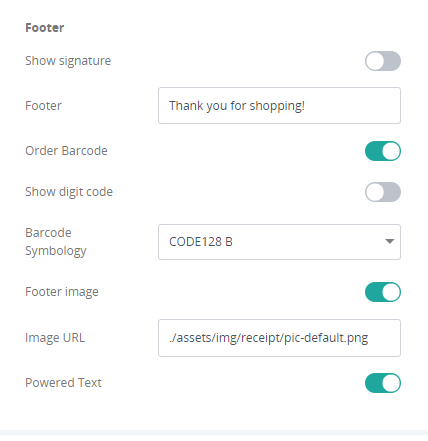 Receipt Preview #
On the right of the customization list will be a receipt preview. Any customize you make will be updated on the preview.
Select receipt template for your store #
You can assign a receipt template to each Outlet.
To assign receipt template to your outlet:
Go to Assignment (at the top left of the receipt page).
Select your outlet.