We hope that you are having a great Christmas holiday with your family. As any business owners know, this Saturday is Boxing Day, and we believe that you have already prepared your store for a successful shopping day. We want to give you a hand with the preparation by introducing you to a ConnectPOS and Webkul POS review so you could have a better understanding of the 2 most commonly used POS systems, and maybe find the one that could help leverage your business. 
Overview ConnectPOS and Webkul POS
ConnectPOS
ConnectPOS – a leading cloud-based POS solution provider, famous for advanced technology and a feature-rich system. It covers all kinds of industry, from Footwear, Fashion, to Toys and Gifts. ConnectPOS makes transactions in both physical and digital stores easier for business owners. 
Webkul POS
With 10 years of experience in the market, Webkul is best known for creating world-class POS apps, Marketplaces, Omnichannel Connectors, and Native Mobile App Builders. Webkul is an expert when it comes to extensions and apps for eCommerce platforms, ERP, PIM, etc.
Compatibility
The ability to operate on multiple platforms is one of the most essential functions of a POS system. With that being said, both ConnectPOS and Webkul POS are able compatible with different devices, from PC-based (Windows, macOS) to tablets and smartphones (Android, iOS).
To be more specific, there are 3 ways that retailers could access easily and conveniently ConnectPOS mobile POS:
Download ConnectPOS app from App Store
Through web browser on mobile devices
Install PWA
Integrations
ECommerce platforms
By integrating with the eCommerce platform, the POS system will have a safe and friction-free online operation. Therefore, a POS system that could integrate with multiple eCommerce platforms is what business owners always want.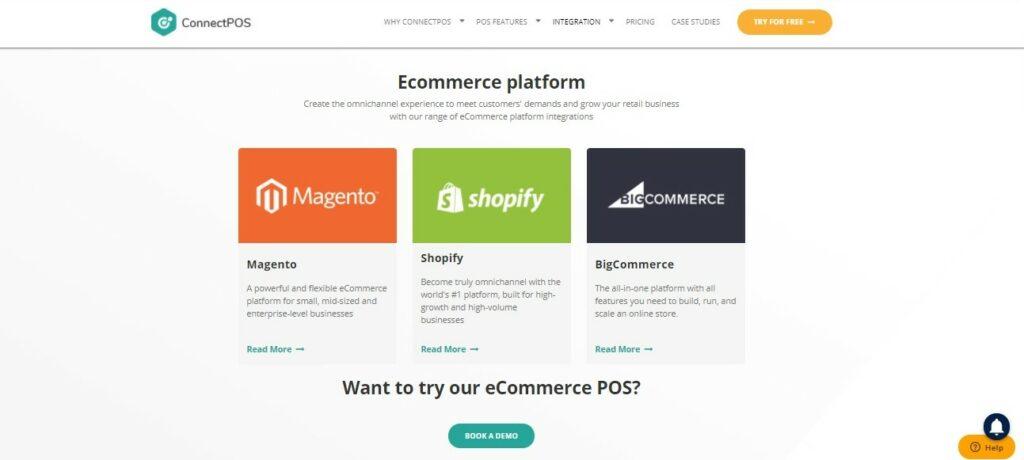 Both ConnectPOS and Webkul POS integrate with many eCommerce platforms. ConnectPOS partners with platforms such as Magento, Shopify, BigCommerce, and WooCommerce. 
Webkul POS also integrates with platforms like Magento, Shopify, WooCommerce, OpenCart, etc.
Payment integrations
In order to have a transparent and secure transaction, it is important to have payment integration. Besides, it also allows retailers to be able to offer customers different payment options. Customers could make payments with cards, cash, or even gift cards.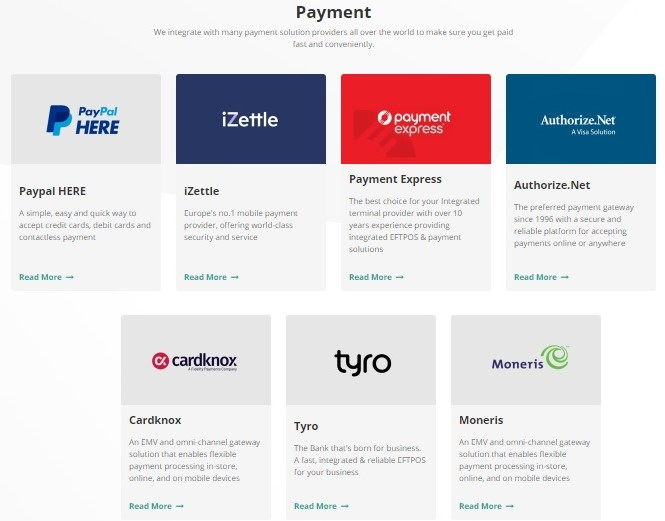 With that being in mind, ConnectPOS integrates with numerous payment solution providers, for example, Paypal, Tyro, Moneris, etc.


Webkul POS also partners with various payment gateways such as Authorize.net, Stripe, PayU, etc. 
Features
Order management 
Offline mode
When looking for a POS system, almost every retailer would want their systems to be able to work offline. The offline mode feature will create a smooth working flow for the business even when the internet is down.
Today is your lucky day since both ConnectPOS and Webkul offer this feature within their systems. The feature works almost the same for the two brands.
The offline mode will automatically be turned on when there is any internet trouble detected. Almost all of the other features will function normally and retailers could continue selling. Everything from putting items into carts to making payments could be processed. Customers will still be able to pay either with cash or cards. When the internet is back to normal, the data that are made offline will be synced to the back-end of the system so retailers will not need to worry about sales being lost.
Custom sale
This is a handy feature since it enables retailers to add an unavailable product into the cart and checkout as guests. Custom sale features are useful for businesses that sell DIY, handicrafts products, etc.
This feature is offered by ConnectPOS. It is easy to use and only takes less than a minute to create, retailers could also add a note and apply discounts like usual products.
For Webkul, the feature is not available, but users could obtain it by adding the Custom Product Extension.
Save and retrieve cart
Cart saving and retrieving give retailers better control of the checkout process. When a customer wants to grab an additional item while checking out, they could leave that cart and come back later. Meanwhile, the cashier could put that cart on hold and continue serving other customers. It is a win-win situation for sellers and buyers. To put it in a nutshell, save and retrieve cart features not only reduce cart abandon rates but also boost customer satisfaction and revenue.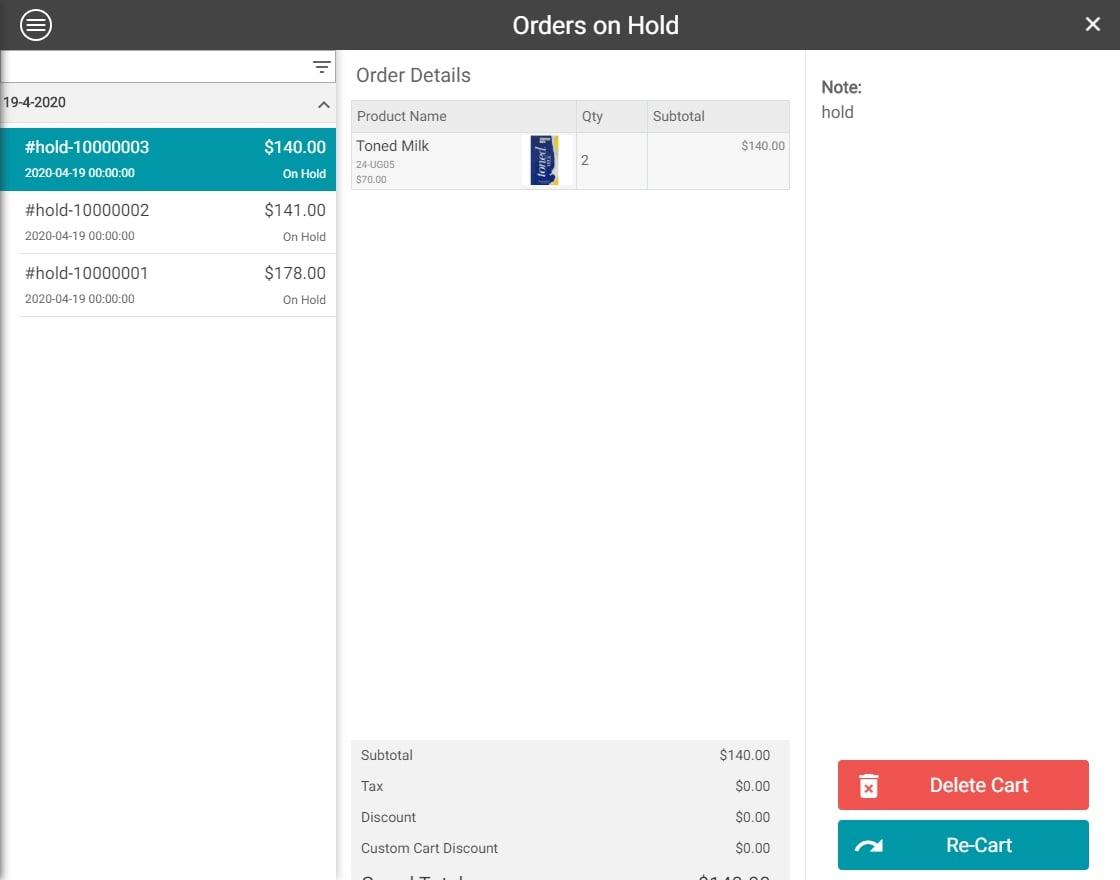 This feature is offered by both ConnectPOS and Webkul POS. From a saved cart, retailers could add items, discount for later retrieval, so the order could be completed.
Checkout process 
Barcode scanning
A POS system that integrates with the barcode scanning will optimize and help fasten the checkout process. Retailers could easily locate a product by scanning the barcode of the product. Therefore, retailers will not need to search for products manually by typing their name and save a lot of precious time that could be spent on other tasks. 
ConnectPOS offers this feature just right at your fingertips.
For Webkul, users could have better inventory management by adding other extensions like Barcode Inventory or Multiple Quantity Barcode.
Create and customize receipts
The receipt does not only contains all the information of the transaction but it is also a great marketing tool for retailers to leverage the businesses. Retailers could promote their stores by designing their receipts with distinct Corporation Identity Program (CIP) elements. They could add details like promotions and sales, along with store address, customer information, etc. Being able to customize the receipt is an outstanding feature of a POS system.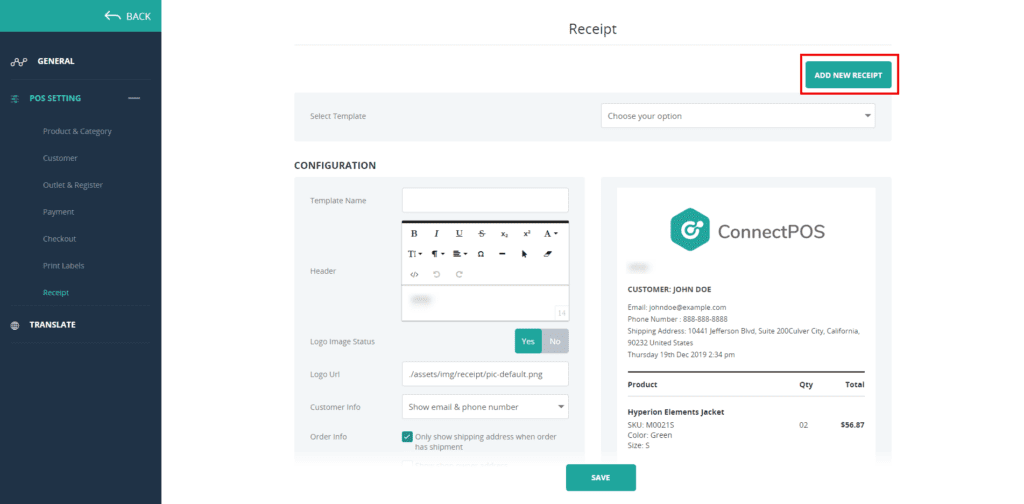 ConnectPOS users could find this feature in the system where elements like word fonts, style, customer data, etc. are available for edit.
For Webkul, users could print the receipt, but in order to customize, they will need a Custom Receipt Add-on.
Multiple payment methods
With the high demand for online shopping, comes the high demand for multiple payment options. Customers do not want to pay by just cash or card anymore. They want to be able to 'mix and match' different methods of payment. Hence, businesses have to satisfy the needs of customers by offering various payment methods.
Luckily, both ConnectPOS and Webkul POS offer multiple payment choices. When customers make a purchase, they could have the option to pay by either cash and card, gift card and cash, or any other combination. Moreover, customers could also have options like layaway payment, split-tender payment, and deposit.
Inventory management 
Real-time synchronization
Another essential feature of a POS system is real-time synchronization since a POS is supposed to handle multiple warehouses and stores simultaneously. In order to have an effortless and flawless transaction, data from all platforms need to be synchronized on a real-time basis. 
Being robust and powerful, ConnectPOS and Webkul POS both have this function embedded in the system. Orders will automatically be synced to the back-end as soon as the order is placed from the cashier's end. Retailers could be assured that everything from warehouse and store management to reporting systems are all synchronized, in real-time.
Customer management 
Wish list
By generating sales from potential customers who showed interest but did not purchase, offering customers wish lists is an effective way to reduce shopping cart abandonment. Wish list feature gives customers an easy way to remind themselves of items that they want, and help retailers measure the amount of interest of those items. The feature is also extremely handy for customers who want to experience the products in-store for later online purchases. By adding wanted items into the wish list, customers would save time and make sure that they will not forget them.
Unfortunately, the wish list feature is only available for ConnectPOS users.
Loyalty program
Repeat customers are every business desire since customer retention is 7 times more cost-effective than trying to acquire new ones. With that being so,  businesses have made a great amount of effort to delight customers and keep them coming back by initiating loyalty programs. 
Retailers could create a well-functioning loyalty program and effectively manage it in ConnectPOS by choosing the suitable loyalty integrations, check the balance of customers' reward and produce comprehensive reports from the data.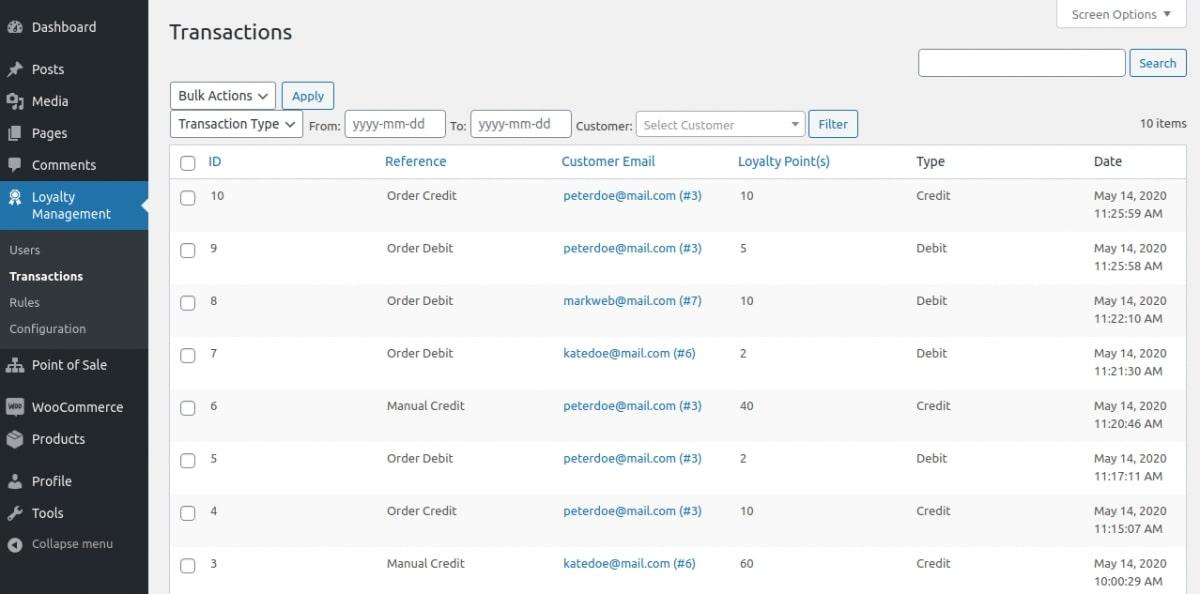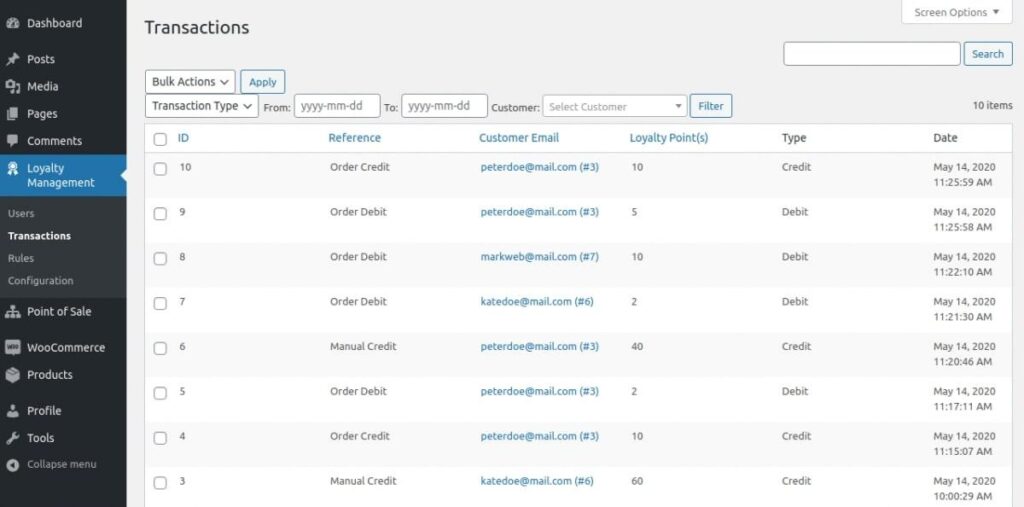 Webkul POS retailers could also obtain this feature by having add-on extensions.
Staff management 
Above all, security is the most important factor. Therefore, staff management in a POS system will help retailers have a better vision and control of the employees. A POS which allows retailers to create unlimited staff roles and give employees restricted access to certain categories is a must-have. 
In both ConnectPOS and Webkul POS, retailers could add as many roles as they want and could give each role certain permissions.
Retailers could even keep track of the performance of staff as well as cash floats, cash in and out, etc. in the most efficient and specific way, in order to alert any fraud that might happen.
Customer support
To receive 24/7 customer support service of ConnectPOS, retailers are welcome to contact by one of these ways:
Submit a ticket query via ConnectPOS website
Send email to

[email protected]

Contact a Solution Manager if retailers have installed ConnectPOS
For Webkul, retailers could contact by any of the following ways:
Create a request ticket
Send message directly on website
Call directly by phone number
Pricing plan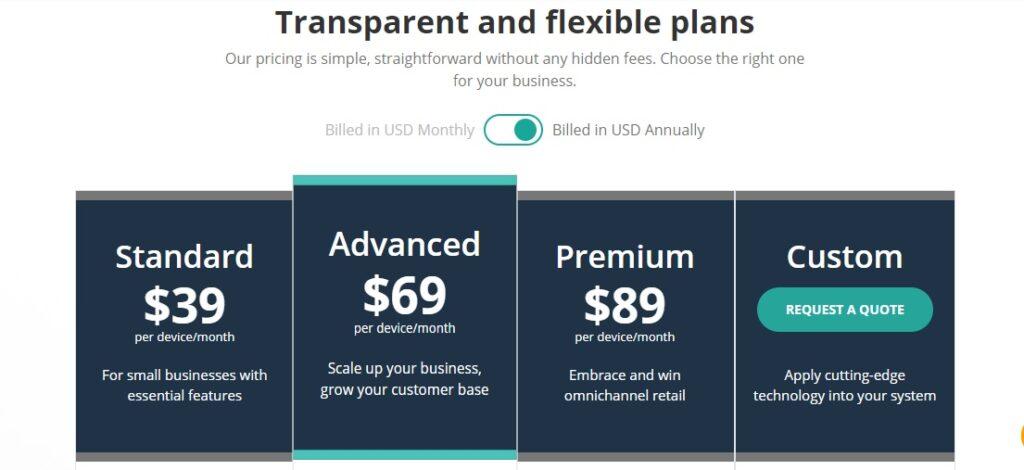 ConnectPOS offers simple and straightforward plans with no hidden fees. Retailers could choose from 4 available plans, starting from $49/month (monthly subscription) and $39/month (annually subscription). ConnectPOS also provides a custom plan where retailers could customize their plan to best fit their needs and budget. Users could experience a 14-day free trial before actually purchasing the system. Retailers on Shopify could have ConnectPOS for a very special price with only from $9/month (free plan available).
Webkul POS provides a diverse pricing plan for every user, for example, $10 for BigCommerce retailers, or $249 for Magento retailers.
Have you found the one for your business?
After reading this article, we hope that you have a better understanding of ConnectPOS and Webkul and be able to pick the suitable system for your store. If not, how about you take a look at the one that is right within your reach?
Contact ConnectPOS right now for a free trial and a free handy eBook for cashiers.
---
►►► See our products: Magento POS, BigCommerce POS, Shopify POS, Woocommerce POS, Restaurant POS, NetSuite POS, Thailand POS, South Africa POS and Commercetools POS