Previously in the other articles, we discussed the similarities and differences between ConnectPOS and other POS in the market, including Hike POS and ShopKeep POS. To continue with this series, which becomes handy for retailers like you when considering a POS for your businesses, today, we'll discuss another POS review: ConnectPOS and Lightspeed Retail POS. 
Overview ConnectPOS and Lightspeed Retail POS
ConnectPOS
ConnectPOS is a leading cloud-based POS software for omnichannel retailers. This POS system is famous for its pyramid of features and advanced technologies applied to the POS. It is capable of fulfilling the distinct needs and demands of all kinds of businesses, from merchants to service providers. ConnectPOS covers a wide range of industries such as Fashion and Accessories, Footwear, Food & Drink retail, etc. With that being so, ConnectPOS is a favorite among retailers who have both physical and digital stores as it makes the business operations become easy and automatic. ConnectPOS has been serving clients who are mainly from Asia, the Middle East, America, and Australia. 
Lightspeed POS
Lightspeed is a cloud-based POS system that is extremely famous for its "library" of integrations as business owners can find any type of integrations in Lightspeed POS. This POS is suitable for retailers in different industries such as clothing, footwear, bike, jewelry, pet, sporting goods, and home decor.
To make sure that you're in the right place, this review is about Lightspeed Retail. It's a POS designed specifically with a variety of features to fulfill retail businesses' distinct needs and demands. If you're operating a food & beverage business, you'll want to head on over to other Lightspeed Restaurant POS reviews.
Compatibility
ConnectPOS and Lightspeed Retail POS can work well on multiple platforms from PC (macOS, Windows), and mobile devices including smartphones and tablets (Android, iOS). ConnectPOS mobile POS is easy to access through 3 entrances:
Download the ConnectPOS iPad app from the App Store.
Install PWA that is compatible with both iOS and Android.
Through web browser in your mobile devices.
Furthermore, ConnectPOS also supports other advanced technologies developed itself. The first to mention is ConnectPOS AI facial recognition. As straightforward as its name, this technology has the ability to scan and "remember" people's faces, so that it can help shop assistants with every task and even upselling and cross-selling by:
Inform store assistants at the very moment a customer walks into the store.
Allow shopkeepers to review customers' past purchases, shopping cart history, searching patterns, etc. to serve them better.
Identify new customers to suggest joining loyalty programs.
Recognize shoplifters for better security.
Additionally, ConnectPOS has recently introduced its interactive customer screen to enhance the in-store customer experience. Just like its name suggests, buyers can interact with the customer screen in more than one way:
Review items before paying
Receive last-minute recommendation
Sign
Type email and leave rating
With regard to this dimension, ConnectPOS definitely stands out as a stronger competitor thanks to its flexibility of compatibility with multiple devices and up-to-date technology integrated into the POS.
Integration
E-commerce platforms
ConnectPOS is a robust POS system that is compatible with multiple popular e-commerce platforms including Shopify, Magento, BigCommerce, and WooCommerce in the very near future. Especially, ConnectPOS offers an exclusive deal for Shopify retailers. Normally, as Shopify has its own payment processing system, it charges an extra fee if merchants want to integrate with third-party payment providers. However, as a ConnectPOS user, you don't have to pay any additional fees if you wish to have payment integration from third parties.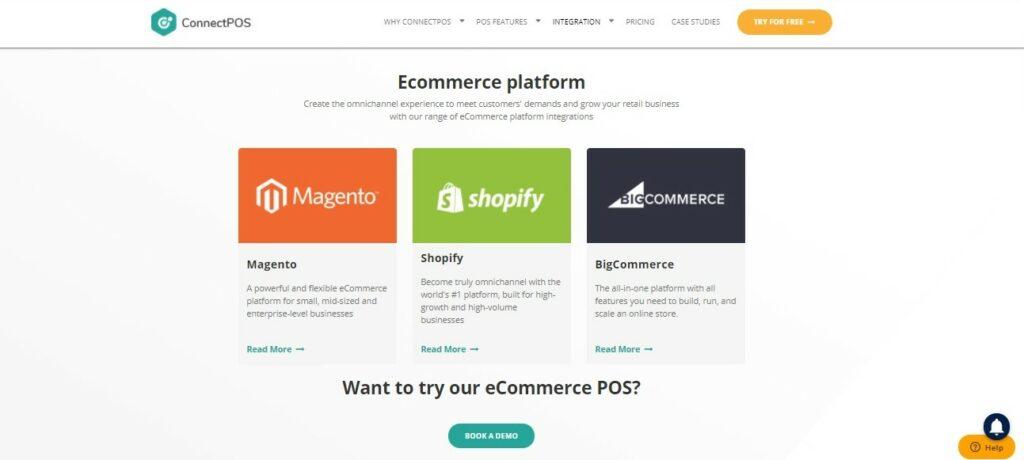 On the other hand, Lightspeed doesn't integrate directly with e-commerce companies but partners with third parties to connect Lightspeed Retail to e-commerce platforms. For example, Accumula unites Lightspeed with platforms like Shopify/Plus and Magento 2, or Kosmos syncs Lightspeed and BigCommerce, Shopify, WooCommerce, Magento, and X-Cart. 


In terms of the integration with e-commerce, although both POS systems can work well on some commonly-used platforms, involving third parties can be sometimes confusing and tricky. If you feel that way, ConnectPOS can be a nice option thanks to its already built-in e-commerce integration.
Payment integration
In order to be capable of offering customers as many payment options as possible and ensuring the security and transparency of online transactions, payment integration in POS is a must.
With ConnectPOS, retailers are provided with various famous and trustworthy payment gateways that support different payment methods. Some to mention are Paypal, iZettle, Moneris, Authorize.Net, and Tyro.
The case is slightly different for Lightspeed Retail POS as other than payment integration with third-party payment providers. There is also an independent payment processing system developed by Lightspeed, the so-called Lightspeed Payments. However, Lightspeed Payments is available in the US and Canada only. Thus, if you're running your business in other regions, you must check out payment gateways integrated with the POS. 
Features
Check-out and Payment
Self check-out
This feature is uniquely offered by ConnectPOS with its robust PWA consumer app. Buyers can access the PWA consumer app simply by scanning a barcode and opening up to many handy functionalities. The most outstanding one is self-check-out which helps customers skip the counter and save a lot of time. Besides, this feature also speeds up the check-out process for stores, resulting in better business performance. 
Multiple tax levels
If you are operating or planning to operate a business that involves different tax levels, synchronizing tax settings with your platform's settings is necessary, yet complicated. The good news is, both ConnectPOS and Lightspeed Retail POS have the multiple tax level feature to help you deal with that.
With ConnectPOS, all you need to do with multiple tax levels is now simplified in a few bullet points:
Decide on the rate for each tax.
Create a single multi-line tax by combining different taxes.
Assign a tax to one or multiple stores.
Assign a tax to a specific product.
Adjust or exclude a tax before each transaction (optional).
In Lightspeed Retail POS, you can add a tax class by following steps:
Enter a class name.
Click your shop's sales tax.
Select the tax class you previously added.
Enter the tax rate of your tax class.
Assign items to a tax class.
Order management
Custom sale
Custom sale is a handy feature that enables shopkeepers and clerks to add a temporarily unavailable item into the shopping cart and check out as guests. This feature is extremely useful to sell a temporarily unavailable product, DIY items, handicrafts, etc. 
This feature is only available in ConnectPOS, which makes this POS become extremely flexible and versatile for a smooth business operation.
Refund and Exchange
Refund and Exchange are the 2 fundamental and crucial elements of a retail business. According to research, over 81% of customers say they are more loyal to retailers with reasonable refund and exchange policies. That's why having a POS with well-functioning built-in refund and exchange features are fruitful for retailers. 
Conveniently, ConnectPOS and Lightspeed Retail POS both have this powerful feature in their POS. Both systems are fast-working and easy-to-use. You can issue refunds or process exchanges in both POS by finding the original sales transaction and refunding it or replacing items for exchange. Other than that, Lightspeed also allows refunding by creating a new sale and converting it to a refund. However, refunding from the original transaction is recommended whenever possible for more accurate and thorough record-keeping.
Offline mode
This is one of the features to look for in an outstanding POS system. Offline mode allows stores to sell even when the internet connection is down or unstable. Thus, you can continuously make sales throughout the day without any interruption. 
Unfortunately, Lightspeed Retail hasn't offered offline mode yet. This feature is only available in their Lightspeed Restaurant POS.
ConnectPOS, on the other hand, provides merchants with a robust and powerful offline mode feature. It automatically switches your system to offline mode and normally conducts operation tasks when you lose your internet connection. Shop owners can quickly choose the items, manually insert the discount rate, and smoothly take any dummy payment with ease, including cash, credit card, or debit card payment. And at the end of the day, they still have the full report with an accurate balance in the POS.
Staff management
Create unlimited staff roles and give permission
Security is the key thing to any POS system, particularly to its staff management system. You, as a manager, adopt POS to monitor your staff, clearly don't want your employees to interfere with the management. Therefore, a POS that allows you to create unlimited staff roles and give them restricted access to certain actions is vital. 
You can add a new staff role and set up permission for it in either ConnectPOS or Lightspeed Retail POS. With such POS, business owners and operators are empowered to add as many roles as they wish and give each role permission or restriction to certain actions.
Customer supports
There are 4 ways that you can report a bug 24/7 to ConnectPOS:
Submit a ticket via the ConnectPOS help desk.
Can also find this link by navigating to the menu bar on the top of the ConnectPOS website and click "Support". When you submit your ticket, you can set the priority of your problem as Normal/ High or Urgent.
Directly send an email to

[email protected]

.
Talk to ConnectPOS Solution Managers who have been in touch with you. They will summarize your problem and send it to the Developer team.
For Lightspeed Retail POS users, you can seek help from: 
Free onboarding: Live online training and live Q&A with a specialist
Free and 24/7 support
Help center
Community forum
Pricing plans
In terms of pricing plans, at first glance, Lightspeed Retail POS seems to be more flexible as there are 5 plans offered in total compared to 4 plans from ConnectPOS. However, when taking a closer look, ConnectPOS is more versatile as it let merchants customize their own plan. With that being said, you, as business owners and operators, can "DIY" your POS system to suit your business and your pocket.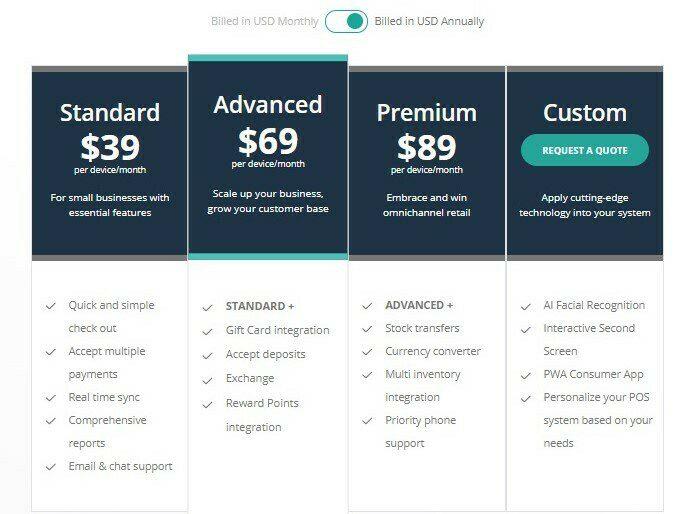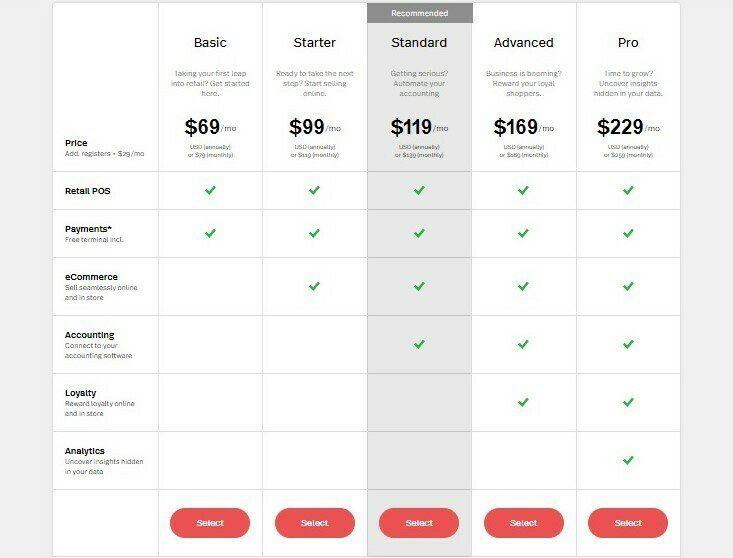 Furthermore, ConnectPOS appears more affordable as it starts at US$39 compared with the US$69 offered by Lightspeed Retail POS. Even better, with such a fraction of the price, ConnectPOS still ensures essential features for your business's smooth operation. For example, the ConnectPOS Advanced plan (US$69) already comes with the reward points feature. Meanwhile, not until the Lightspeed Retail POS Advanced plan (US$169) that you can have this feature. 
Have you made up your mind yet?
As we're reaching the destination of our journey today in a few blinks, we hope that you have had some ideas about the ideal POS system for your business success. Both of the POS software we discussed earlier are decent and have their own strengths and weaknesses. However, if you still hesitate to pick one, how about taking a look into the one that is right in your hand right now? ConnectPOS, one of the leading cloud-based POS software, will not let you down with its stability and flexibility. Give us a call, and give your businesses opportunities to thrive now! Or book your 14-day free trial to be given the chance to experience our globally standard product immediately!
---
►►► See our products: Magento POS, BigCommerce POS, Shopify POS, Woocommerce POS, Restaurant POS, NetSuite POS, Thailand POS, South Africa POS and Commercetools POS