A POS system is a supportive friend for every business when choosing the right one. On the other hand, if you integrate the wrong POS system into your business then it can be a countereffect. As there are numerous POS solution providers in the market, it becomes tougher for retailers to find themselves their "match in heaven." Yet, don't worry. We're here to help! In today's article, we'll discuss the 2 commonly used POS systems, which are ConnectPOS and ShopKeep POS, to see which one will fit your business. 
Overview ConnectPOS and ShopKeep POS
ConnectPOS
ConnectPOS is a cloud-based POS software. This POS system deems a leading POS in the market and is famous for its wide range of features and advanced technologies facilitating the omnichannel experience. It can fulfill the distinct needs and demands of all kinds of businesses of all sizes. ConnectPOS covers various industries such as Fashion and Accessories, Footwear, Food & Drink retail, etc. ConnectPOS makes transactions in both physical and digital stores become easy and automatic. Most of the ConnectPOS clients are from Asia, the Middle East, America, and Australia. 
ShopKeep POS
ShopKeep is an iPad and Android POS system for retail businesses, restaurants, bars, franchises and quick-serve businesses. The POS software offers a touchscreen interface when used on an iPad or Android tablet device, which allows users to add and remove orders from wish lists. ShopKeep offers a system that is easy to use, has dynamic features, and boasts all-around increased efficiency. ShopKeep definitely performs as promised – quickly and responsively.
Compatibility
Being a robust POS, ConnectPOS is compatible with multiple devices including desktops, laptops, and mobile devices like smartphones and tablets. Meanwhile, ShopKeep POS can only work on mobile devices. In terms of PC (macOS and Windows), only ConnectPOS can run on this device given that ShopKeep is a mobile POS system.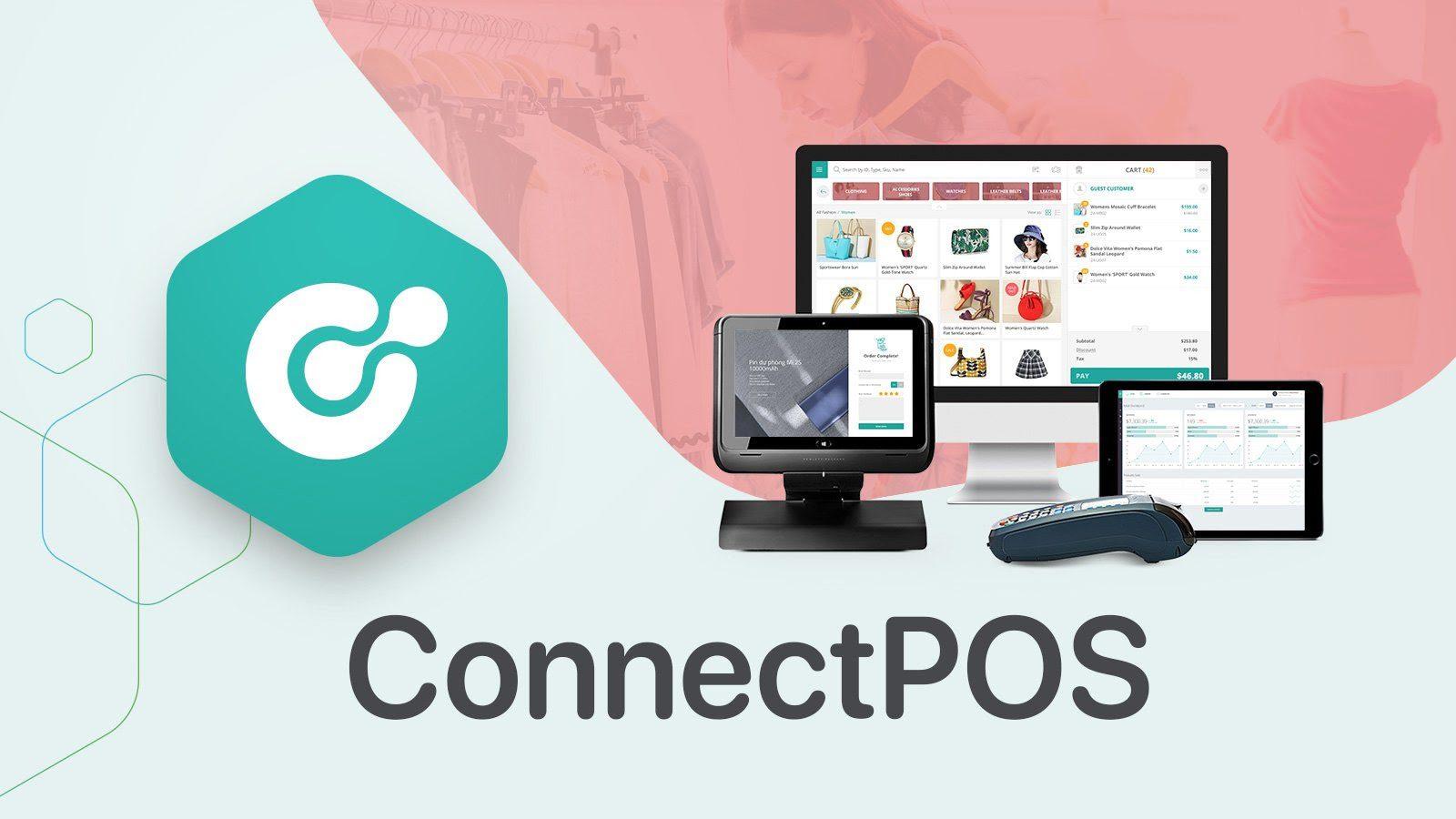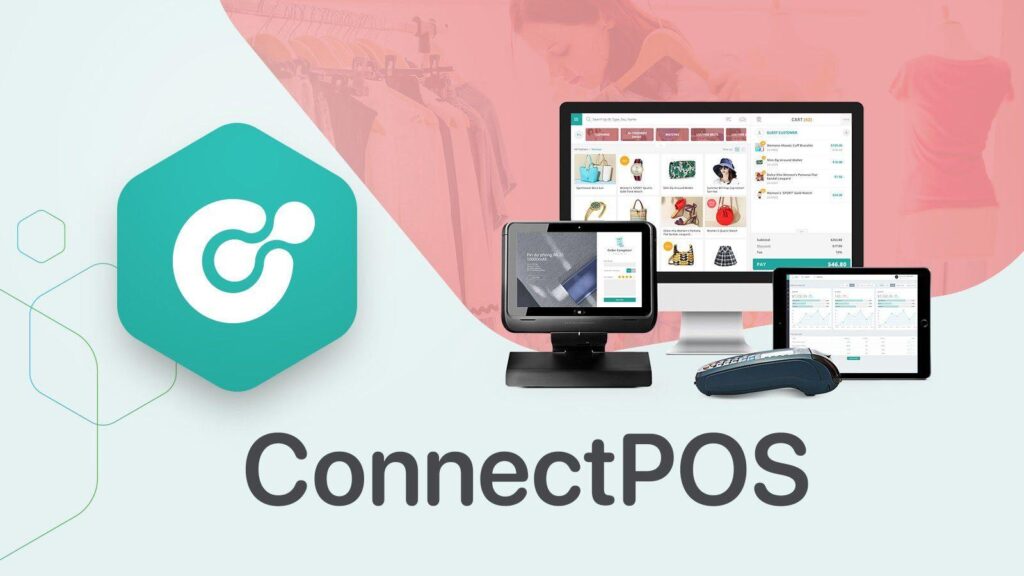 Talking about mobile POS, ShopKeep iPad POS is superior. Additionally, they also offer the Android version of the software. On the other hand, mobile POS is supported actively in ConnectPOS as retailers can easily access ConnectPOS mobile POS through 3 entrances:
Download the ConnectPOS iPad app from the App Store
Install the PWA that is compatible with both iOS and Android
Through web browser in your mobile devices
Integration
E-commerce platforms
Both of these 2 POS software can be integrated with e-commerce platforms to facilitate a smooth and secure operation for online businesses. ConnectPOS is now partnering with famous e-commerce platforms, which are BigCommerce, Magento, Shopify, and WooCommerce very shortly.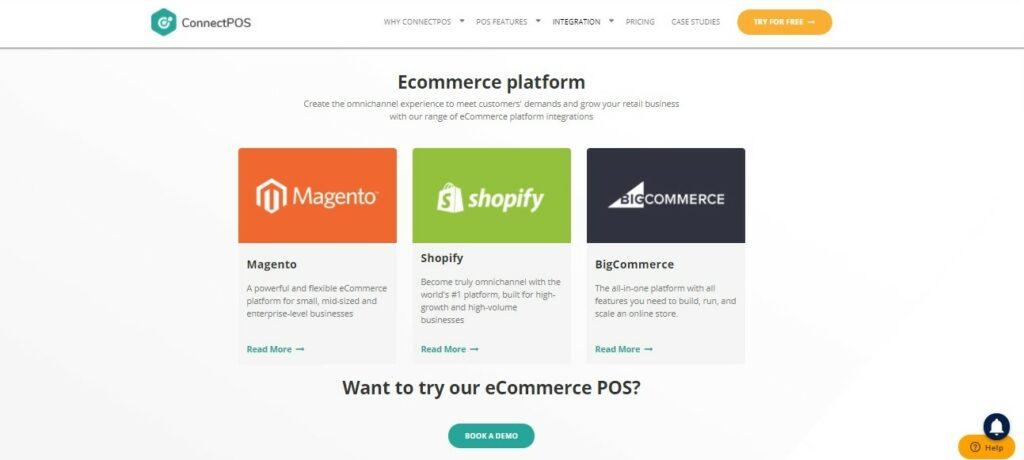 Meanwhile, ShopKeep only integrates with BigCommerce and Ecwid officially. Retailers can choose to build an e-commerce site themselves with the help of these platforms. Ecwid and BigCommerce are 'software as a service' (SaaS) tools, meaning that you don't own the software, but pay a monthly fee to use them. E-commerce platforms allow you to set up 'catalogs' of products, and add photos, pricing, weight, etc. to start selling online.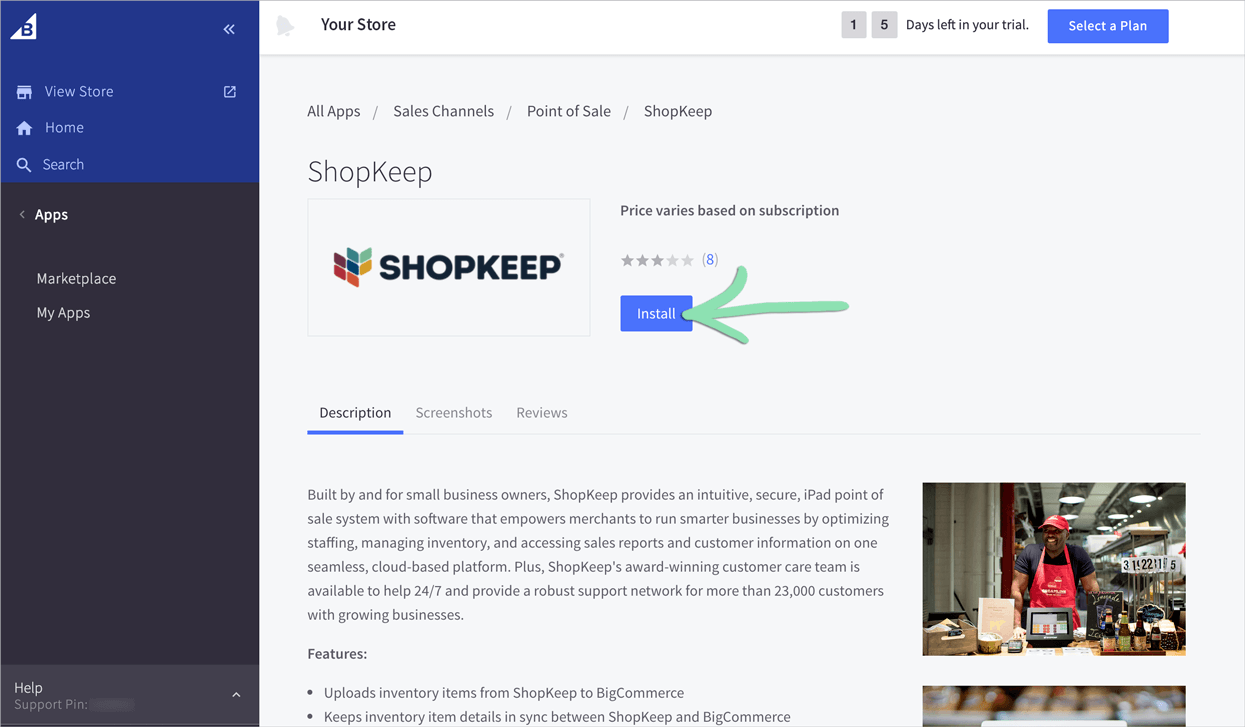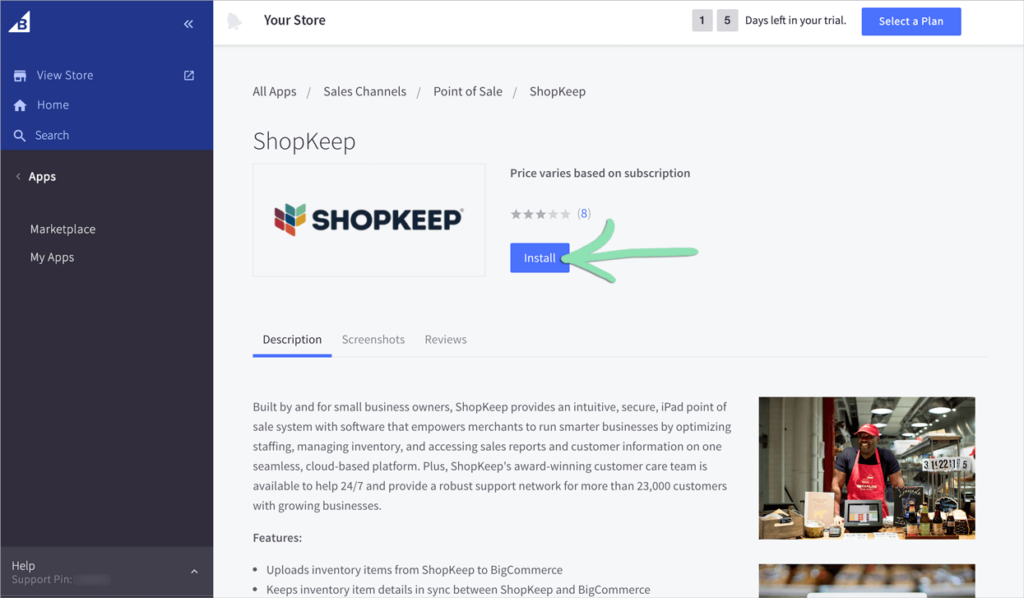 Payment integration
ConnectPOS has a powerful payment integration with many secure and transparent payment gateways such as Paypal, iZettle, Moneris, Authorize.Net, etc. This empowers retailers to provide their customers with various payment options from cash, credit cards, debit cards, gift cards, etc. Moreover, payment integration in ConnectPOS ensures the security and transparency of digital transactions for e-commerce retailers.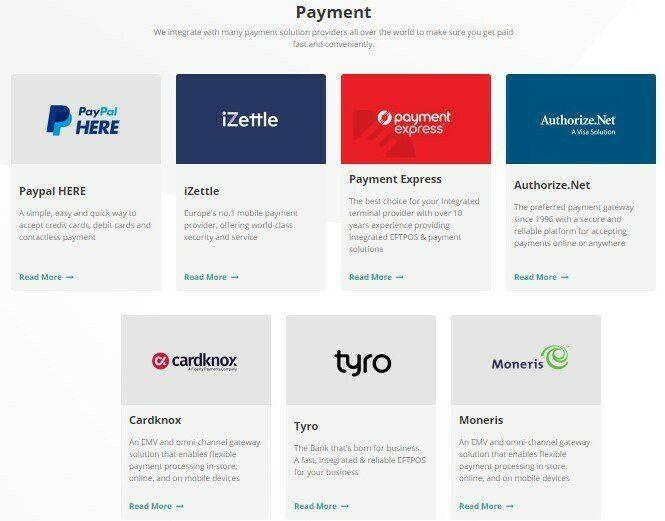 On the other hand, ShopKeep offers its own payment processing system, so-called ShopKeep Payments. When using ShopKeep Payments with the POS software, merchants can enjoy easy onboarding, next-day payments, and flexible rates. All sales information is stored in the cloud for easy reporting.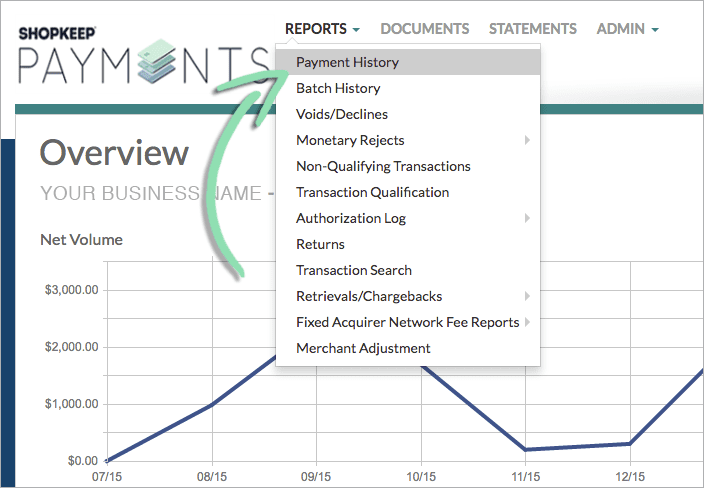 Other extensions
In order to support business owners and operators in their best ways, both ConnectPOS and ShopKeep POS are partnering with other third-party companies to offer extra convenience.
With ConnectPOS, users can enjoy a powerful inventory management system and a well-functioning supply chain management system, supported by Boost My Shop and DHL. This assists you in maintaining your stock flow and stock level always. Another meaningful feature – reward points – is also available in ConnectPOS thanks to Aheadworks. With this, retailers can create and manage their loyalty programs well to please buyers and keep them coming back. 
For ShopKeep POS users, Mailchimp integration will help send automated marketing emails to all of your customers at once. This integration automatically syncs your customers and their email addresses from ShopKeep to your Mailchimp account. Additionally, ShopKeep integrates with QuickBooks Online, an accounting software, to automatically sync register totals to your QuickBooks account and simplify how you balance the books.
Features
Check-out and Payments
Self check-out on mobile app
ConnectPOS exclusively offer this feature with its feature-rich PWA consumer app. Such a convenient mobile app is easy to access as customers need to scan a barcode to open up to the store landing page and start exploring all the products in-store. More importantly, with the ConnectPOS PWA consumer app, buyers can check-out on their own right on their mobile devices. Pay for the purchase with the payment option of their choice, choose to either walk out of the store with the purchase or have the package shipped to their front door. That's it. This helps both retailers and consumers save a lot of time. 
These 2 payment options are useful and handy as they offer buyers more choices to pay for their purchases depending on the situation. This also helps with up-selling and cross-selling.
Split tender allows customers to divide payment for a sale in many ways using any combination of cash, credit, and other tenders. Meanwhile, layaway allows you to take a deposit from a customer for an order, set the order aside, and allow the customer to pay it off at a later date. 
And the good news is that both ConnectPOS and ShopKeep have these 2 features in their POS. 
Order management
According to Forrester Group commissioned by Accenture, 47% of customers surveyed said they used the in-store pickup to avoid shipping fees, 25% so they could get their products sooner and 10% indicated that they found it more convenient than waiting for a delivery. Thus, having the click-and-collect in POS is critical to retail businesses. 
Even though both of these POS systems integrate this feature in their POS, there's a slight difference in the process.
With ConnectPOS, merchants can let their customers buy and pay online, then pick up in-store purchases, so-called click-and-collect. On the other hand, users of ShopKeep POS can use the online ordering feature to allow customers to place orders online for pickup. When an order is ready, your customer is notified via SMS so they can pick it up. And customers need to pay for it in-store as online payment is not available yet. 
Offline mode is crucial to ensure a seamless and frictionless store operation as it keeps the POS functioning normally when the internet connection is down or unstable. Of the 2 POS software applications, only ConnectPOS is offering offline mode. With such a feature, merchants can keep selling even when losing the internet connection. All data is backed up with offline mode so that you don't need to worry about misinformation or data loss when you gain your online status again. 
Inventory and Multi-store management
Things become tougher when you have more than one store to manage. That's when advanced POS systems like ConnectPOS and ShopKeep POS come to your rescue.
ConnectPOS provides retailers with many built-in features to support your multi-store systems, including: 
Manage inventory
Utilize technology

Mobile POS – PWA
Interactive customer screen

Ensure proper staff management

Manager approval
Shift management

More than 20 comprehensive reports with data gathered from all of your channels
For ShopKeep POS merchants, multi-location management features offered are: 
Link existing stores
Manage location nicknames
Switch between locations
Add a new location
Inventory and reporting features
Customer support
With ConnectPOS, there are 4 ways that you can report a bug 24/7:
Submit a ticket via the ConnectPOS help desk.
Can also find this link by navigating to the menu bar on the top of the ConnectPOS website and click "Support". When you submit your ticket, you can set the priority of your problem as Normal/ High or Urgent.
Directly send an email to

[email protected]

.
Talk to ConnectPOS Solution Managers who have been in touch with you. They will summarize your problem and send it to the Developer team.
With ShopKeep POS, you can find support 24/7 through:
Contact Support page on the Support Site
Call at 866-930-3217 and select option 1 or send us a message and they will contact you as soon as possible.
Watch video support
Pricing plans
Regarding pricing plans, it can be seen that ConnectPOS is a little more affordable than ShopKeep POS. You can start at $US39 with ConnectPOS compared to $US49 with ShopKeep POS. Even better, ConnectPOS offers custom plans for you to "DIY" your own POS system to suit your business's needs and demands and your pocket as well. 
Both of the 2 POS don't provide free plans.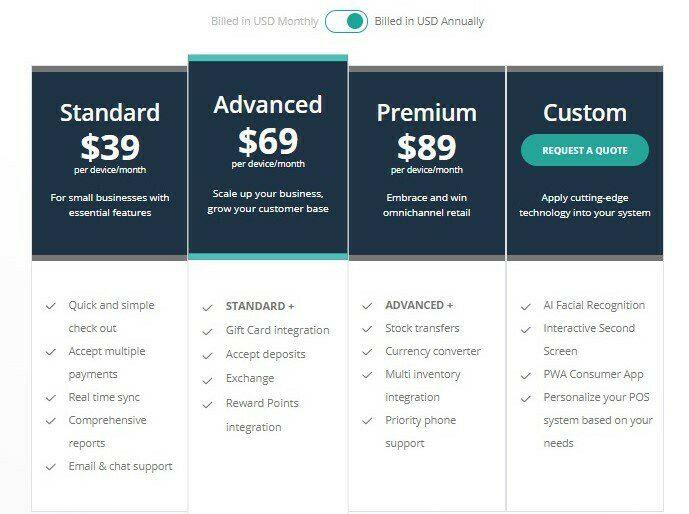 To conclude,
As we're reaching the end of today's article really soon, we hope that we can help you with choosing the right POS software for your business success. The 2 POS systems discussed above are both robust and powerful, with their own benefits and drawbacks. However, if you're still unsure, how about looking into the one that is right at your fingertips right now? We, ConnectPOS, pride ourselves on offering you one of the leading POS solutions for omnichannel retail businesses. And it costs nothing to confirm that yourself! Book your 14-day free trial now! Should you have any further questions, don't hesitate to contact us!
---
►►► See our products: Magento POS, BigCommerce POS, Shopify POS, Woocommerce POS, Restaurant POS, NetSuite POS, Thailand POS, South Africa POS and Commercetools POS