Christmas is already around the corner. As the busiest and most profitable time of the year approaches, businesses are rushing to find a great POS solution to make the most out of the holiday season. Today's article will compare 2 commonly used POS systems: ConnectPOS and Epos Now. The comparison will be based on the ConnectPOS and Epos Now review.
This is an early Christmas present for business owners and operators like you!
Overview ConnectPOS and Epos Now
ConnectPOS
ConnectPOS is a cloud-based POS software. This POS system is deemed a leading POS in the market and is famous for its wide range of features and advanced technologies facilitating the omnichannel experience. It can fulfill the distinct needs and demands of all kinds of businesses of all sizes. ConnectPOS covers a wide range of industries such as Fashion and Accessories, Footwear, Food & Drink retail, etc. ConnectPOS is making transactions in both physical and digital stores become easy and automatic. Most of the ConnectPOS clients are from Asia, the Middle East, UK, America, and Australia.
Epos Now
Epos Now is a POS solution provider based in the UK. Despite being UK-based, the company also has its branch in Orlando, Florida to serve American clients.
Epos Now covers 2 main industries which are retail and hospitality. The majority of Epos Now's clients are retail boutiques, quick-serve restaurants, salons, gyms, and hotels. Although Epos Now works with a few big-name clients, its focus is on small businesses. This POS is best for small and mid-sized retailers who only operate between 1 and 4 terminals.
To make sure that you're where you wish to be, this Epos Now review is about Epos Now for retail businesses only.
Compatibility
As technology is thriving, there have been more and more devices that a POS system can run on. In fact, each type of POS can particularly fulfill a specific business's distinct needs and demands. Thus, being able to be compatible with multiple devices is an extremely attractive feature of a great POS.
ConnectPOS, priding itself on its full compatibility with many devices including desktops, laptops, and mobile gadgets (smartphones and tablets).
Quite similarly, retailers can install the Epos Now software on any compatible PC, Mac, iPad or Android device and use the POS with their existing hardware setup.
Integration
E-commerce platforms
The compatibility with multiple e-commerce platforms is one of the most attractive traits that business owners and operators are looking for in an ideal POS system. The more e-commerce platforms a POS can run well on, the more flexibility and versatility it gives its user.
ConnectPOS, a robust POS software to ensure an omnichannel experience for merchants, is compatible with leading e-commerce platforms, including Shopify, Magento, and BigCommerce. Additionally, its collaboration with WooCommerce is expected very shortly. It's not bragging to say that this POS is really strong regarding e-commerce integration. The merchants on all 3 platforms are giving ConnectPOS a lot of trust as the rating for the software on Shopify is 4.6/5, on Magento is 5/5, and on BigCommerce is also 5/5.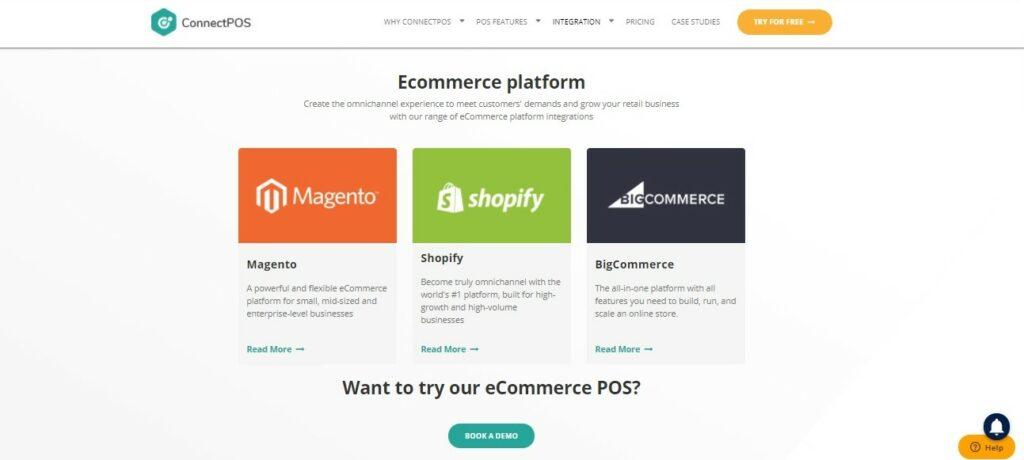 Epos Now, on the other hand, is officially partnering with BigCommerce only. With BigCommerce, users of Epos Now can conveniently create and run an online store. It's easy for merchants to build a website, create a digital store, add products, and start selling products to global audiences. The current rating of Epos Now from BigCommerce retailers is 3/5.
So, in terms of this indicator, ConnectPOS appears to be a little bit more decent as it integrates with more e-commerce platforms than Epos Now does. Additionally, ConnectPOS review on BigCommerce is also more favourable than those of Epos Now reviews.
Payment integration
Payment integration in POS is a must-have feature as it helps businesses ensure their buyers are seeing their preferred payment options at the very end of their shopping journey. This significantly increases the shopping experience for customers. More importantly, having third-party payment solution providers handle transactions makes it more safe and transparent for retailers to receive payments.
Thankfully enough, both ConnectPOS and Epos Now are offering their users robust integration with various payment providers.
ConnectPOS is partnering with common payment gateways including Paypal, Moneris, Authorize.Net, iZettle, etc. that support many payment methods. From cash, credit cards, debit cards, even gift cards, ConnectPOS can handle them all.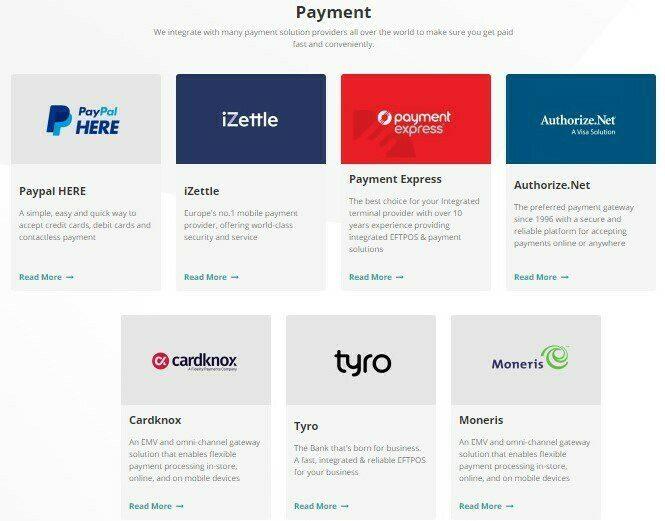 In terms of Epos Now review, this POS has integration with leading third parties like Paymentsense, EVO payments, and Worldpay.

It's evident that ConnectPOS is partnering with more third-party payment providers than Epos Now is. This indicates that with ConnectPOS, merchants can have more payment options to offer their customers. However, it doesn't necessarily mean that ConnectPOS is superior, as each retailer has their own preference.
Features
Order management
Click-and-Collect
According to research, 80% of customers research their purchases online, but 75% of consumers still prefer to buy products in a physical store. Thus, to maximize the profit, retailers need to leverage that factor by offering buyers a click-and-collect option.
With advanced systems like ConnectPOS and Epos Now, you're able to operate a click-and-collect model for your shop without any additional integrations or apps. Thankfully, it's all part of the POS systems. Even though both of these POS systems integrate this feature in their POS, there's a slight difference in the process.
In ConnectPOS, merchants can allow click-and-collect by directly activating the feature right in the POS to make a particular outlet become a picking location. Once activated, customers can freely make orders and choose the outlet they want to pick up their purchase.
Meanwhile, in terms of Epos Now review, click-and-collect can only be processed by the retailers themselves. Customers can call ahead and place an order before their visit, meaning merchants need to have the ordered items ready for collection and payment when their buyers arrive. All are done on the basis of the onhold order feature.
Custom sale
Custom sale is a handy feature that lets shopkeepers add a temporarily unavailable item into the shopping cart and check-out as guests. With that being so, merchants can sell a temporarily unavailable product, DIY items, handicrafts, customized items, etc.
This feature is available only in ConnectPOS. It's easy to use and quick to create a custom note and check-out a custom sale in ConnectPOS. Even better, this feature can function normally during offline mode.
Offline mode
This functionality ensures a frictionless working flow for businesses even when the internet is down or unstable. Thus, it's such a useful and powerful feature that every retailer wishes to have in their POS system.
With ConnectPOS, when the app detects that you lost your internet connection, it will switch automatically to offline mode and pop up a notification on the screen, you don't have to do anything. When the internet is back, it turns off offline mode and synchronizes offline orders to the whole system. That's why there's no need to worry about misinformation or data loss. Even better, almost all features can function normally when the offline mode is on, including accepting dummy payments, creating custom sales, add promotions, calculating taxes, etc.
Epos Now is cloud-based POS. All of your information gets stored in Epos Now's servers. That means you can access your back office at any time from anywhere. Epos Now also has an offline mode, which allows you to continue accepting sales if your internet connection goes down.
In summary, except for the custom sale feature, both the ConnectPOS review and Epos Now review are both positive when it comes to order management. ConnectPOS is doing a bit better by letting retailers create custom sales and empowering buyers to have more control over their click-and-collect option.
Customer management
Loyalty program
ConnectPOS stands out as a POS supporting loyalty program that offers many solutions for creating buyer rewards and benefits. The best part is that you can customize these loyalty programs. ConnectPOS provides you with all the tools for creating rewards for different products. Merchants can create gift cards, discount options, and other buyer benefits.
Particularly, the most common type of loyalty scheme – reward points – is fully supported in ConnectPOS. Once this powerful feature is successfully integrated into their system, it comes with:
Choose the type of loyalty integration
Let customers redeem loyalty points
Allow buyers to pay for their orders using reward points
Check customer's reward points balance
Get comprehensive customer loyalty reports
You can find Loyalzoo on the Epos Now app store and fully integrate it with your POS. With LoyalZoo, you can:
Create membership cards for customers
Send SMS, email, and push notifications
Personalize your interactions with shoppers
Wish list
Well, there's no winner if only one offers this feature. And it's ConnectPOS.
Offering wish lists is an effective way to reduce shopping cart abandonment and fulfill sales from customers who showed intent but didn't end up purchasing. Wish lists are mutually beneficial: they give customers an easy way to remind themselves of a product and help merchants measure product interest beyond a clear-cut sale.
Some customers may want to experience the products in-store and purchase online later. You can help them save time and make sure they won't forget anything, or in other words, you lose a sales chance by sending the cart to their wish list.
Customer database
In ConnectPOS, customers are managed in many different ways. Businesses can sort their customer list and group buyers to their liking. Normally, businesses can search customers by first name, last name, email address, customer ID, telephone, and postcode in ConnectPOS. Moreover, to fulfill the distinct needs and demands of each business, ConnectPOS also offers customization so that retailers can easily manage their customers how they want it to be.
With Epos Now, once you have clicked "add customer", retailers can add details about a buyer, including:
Name
Address
Email
Date of birth
Contact numbers
Card number
GDPR section stating if the customer is happy to be contacted by your business (optional)
Customer support
Retailers can easily report a bug to ConnectPOS 24/7 in 4 ways:
Submit a ticket via the ConnectPOS help desk.
Navigate to the menu bar on the top of the ConnectPOS website and click "Support". When you submit your ticket, you can set the priority of your problem as Normal, High or Urgent.
Directly send an email to [email protected].
Talk to ConnectPOS Solution Managers who have been in touch with you. They will summarize your problem and send it to the Developer team.
From Epos Now, there are various ways that merchants can get help:
Fill out the form on their contact page and they'll contact back shortly.
Find insightful articles on their website.
Call them via the phone number appearing right on the website.
Pricing plans
Regarding pricing, ConnectPOS always takes pride in providing simple and straightforward plans with no hidden fees. There are 4 plans you can choose from, starting with Standard one at US$39 per device per month if you pay annually. Retailers get more benefits as they upgrade their plans, including Advanced and Premium. Even better, ConnectPOS also lets their clients customize their own plans so that they can "DIY" a POS system that suits both their business and their pocket.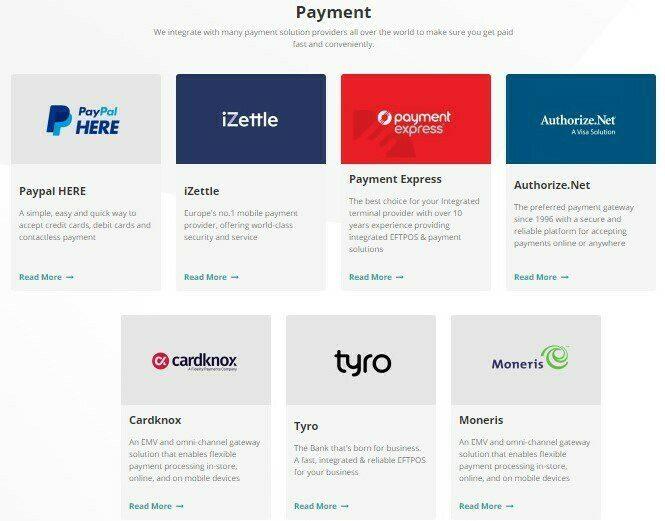 On the other hand, instead of having a comprehensive plan, according to our Epos Now review, the POS has different prices for different POS options.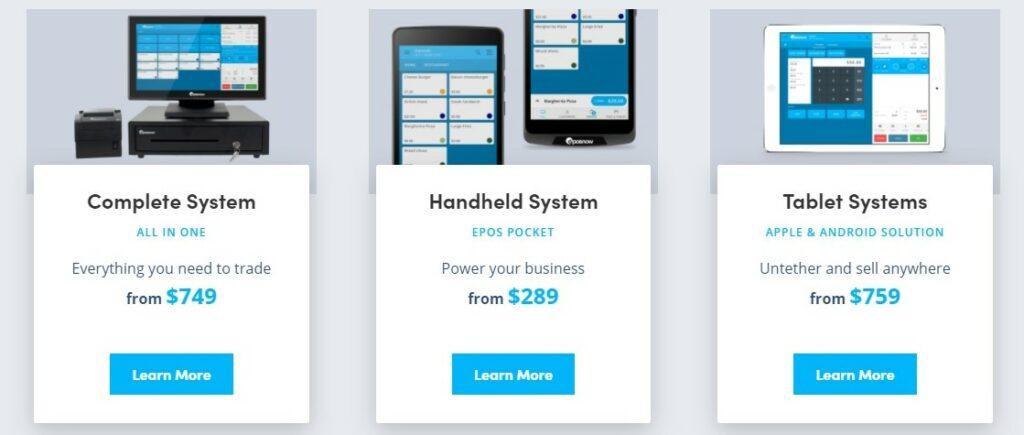 Which one to choose?
So, do you like this early little Christmas present – ConnectPOS review and Epos Now review? Both of the 2 POS systems have their own advantages and attractive features for business owners and operators like you. And if you're still wondering which one to choose, we suggest taking a closer look at the one that's right in your hand right now – ConnectPOS. Book your 14-day completely free trial below to experience a world-class product for a fruitful holiday season immediately! Should you have any questions, feel free to contact now!
---
►►► See our products: Magento POS, BigCommerce POS, Shopify POS, Woocommerce POS, Restaurant POS, NetSuite POS, Thailand POS, South Africa POS and Commercetools POS