Cloud technology has been around for more than a decade. According to G2, 100% of businesses utilize at least one public or private cloud to store and share data. That's why, to omnichannel firms, a cloud POS system is no stranger at all.
However, each organization's definition of an ideal cloud POS app differs. Today, we will help you understand this familiar term and convince you to invest in comprehensive POS software.
What is a cloud POS system?
First, we must understand what the cloud is. Cloud technology bases its operation on the provider's public or private server, and users can access the software via web browsers or mobile apps. A medium company takes advantage of approximately 1,558 cloud apps monthly, like Microsoft OneDrive, Google Drive, Amazon S3, etc.
Running their business on a wide scale through various touch points like online stores, offline locations, social networks, or marketplaces, omnichannel brands require a robust system that connects all channels simply and seamlessly. A cloud omnichannel package, including a POS system and inventory control app, is the answer they all seek.
For simple understanding, a cloud POS app equals a point-of-sale system that leverages the cloud to manage its data.
It can sync data between touchpoints, accept and process various payment methods, and is compatible with a plethora of devices and POS hardware. Cloud POS systems can be native apps or software accessed through web browsers like Chrome and Firefox.   
What are the benefits of a cloud-based POS system?
We can sense that you're tired of hearing advertisements shouting at you to use a cloud POS system – all the empty propaganda forces you to make a change without reasonable persuasion. So let us tell you exactly why you need to switch to a cloud POS app.
It gives you the flexibility to appear anywhere, anytime
A cloud POS app allows business owners to sell from anywhere, as one software manages multiple stores. You can switch between locations within one interface, so adjusting whenever an issue pops up will be easy.
Moreover, you can access your cloud-based POS software on multiple devices, such as a Windows PC, an Android tablet, or an iPhone. Several systems, such as ConnectPOS, create native mobile apps to reduce POS launch time. 
To deliver a frictionless service, the cloud POS also accepts a wide range of payment methods, such as cash, credit cards, gift cards, or other unique approaches like split payments or layaway.
It guarantees data security
Data protection is one of the most fundamental tasks when running a business. With an intelligent hierarchy, you can restrict sensitive data access from your POS system.
Furthermore, with technological advances, you can add further steps to extra-secure your information. Two-factor authenticators (2FA) are popular choices to ensure complete control of your data and used devices.
It offers unlimited capacity
Unlike a local server, cloud infrastructure can expand based on user needs. That's why cloud-based solutions are a go-to choice when businesses plan for future expansion. For instance, you can save thousands of product variants within one outlet in your POS system.
It syncs data across platforms within a second
Even the smallest omnichannel business has at least two touchpoints. Therefore, it's crucial to have all the information in the palm of your hand. A cloud POS helps you access orders, products, inventory, customers, taxes, and much more needed information from different locations with a few clicks.
In addition, an efficient cloud POS works well with multiple eCommerce platforms, including Magento, Shopify, BigCommerce, and WooCommerce. It can also integrate with more advanced options like headless Commercetools and in-house custom web stores.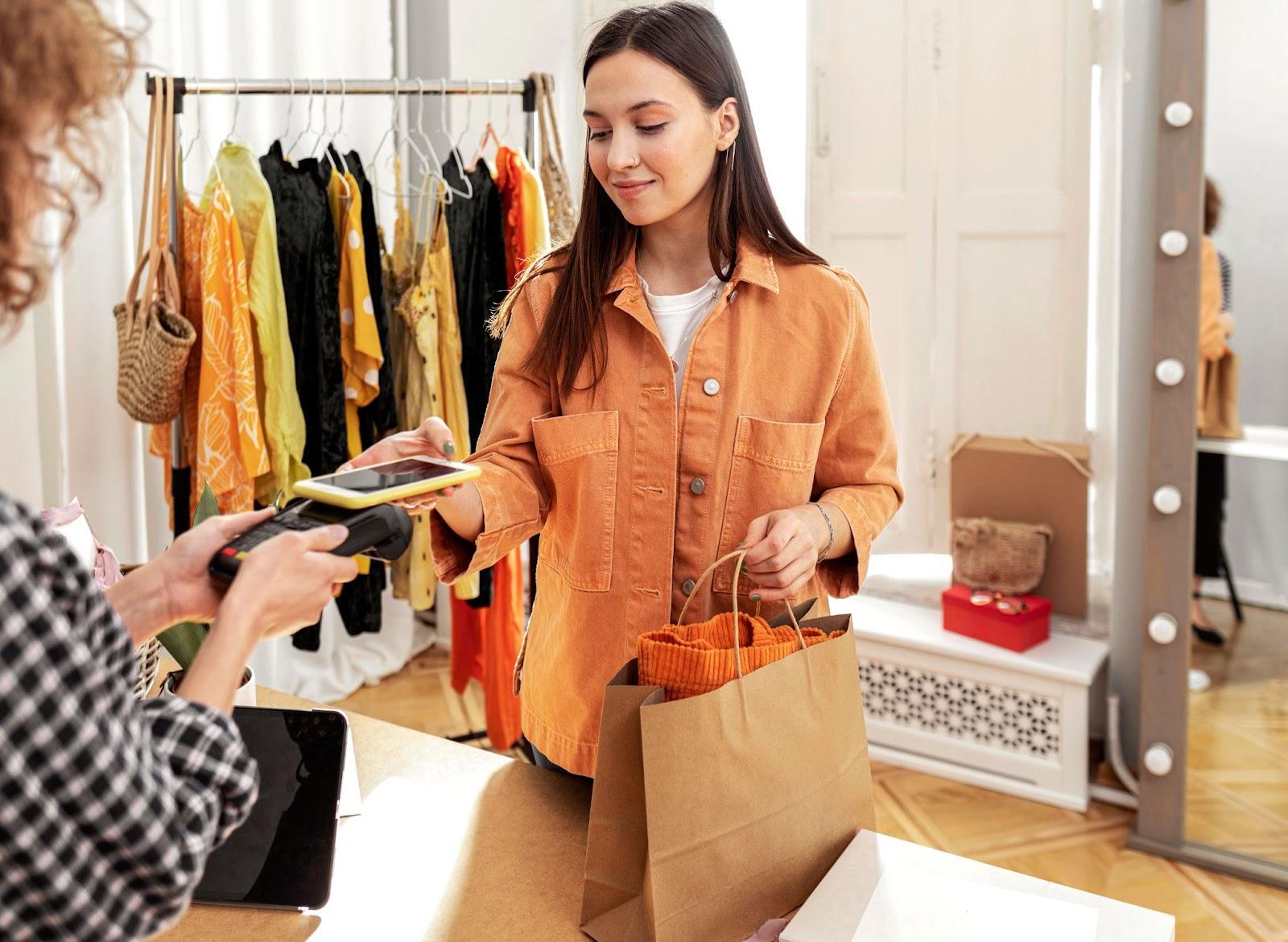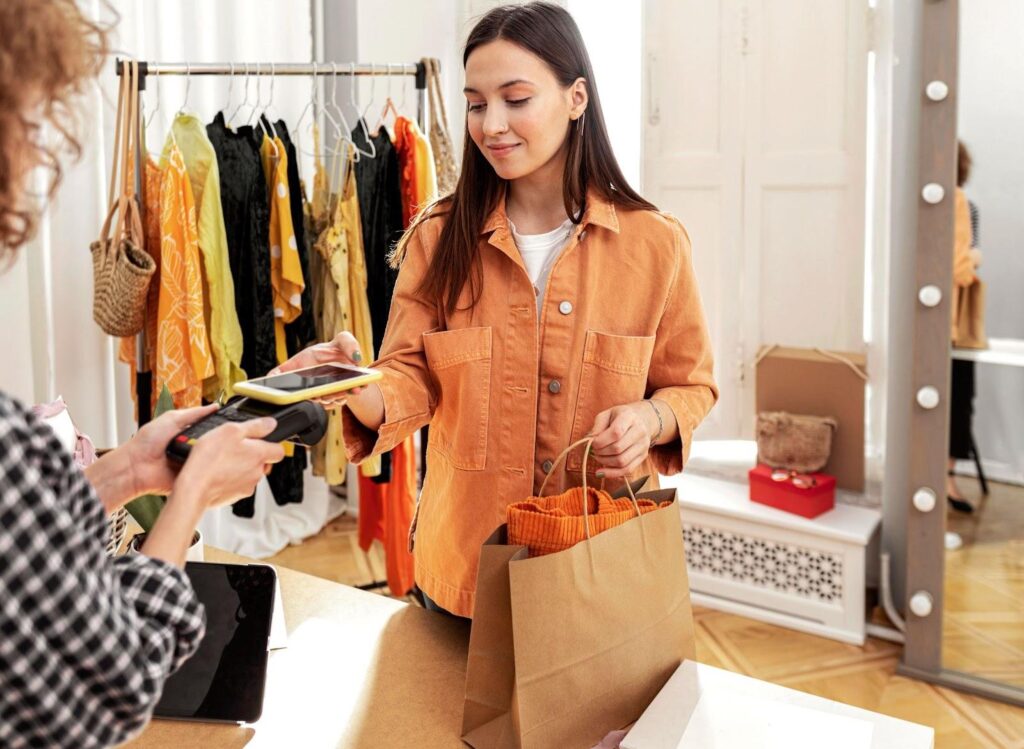 A cloud POS is compatible with typical POS hardware like a card swiper
It's compatible with thousands of other valuable systems
To run an omnichannel business, a single POS is not enough. You need other systems, such as a CRM to manage potential leads and existing customers, an accounting system to handle the financial picture, and an inventory control app to ensure stock availability. 
A cloud omnichannel system puts everything under one roof as it is compatible with essential third-party software. For example, ConnectPOS, a comprehensive omnichannel POS with a built-in inventory management system, can connect with 50+ popular plug-ins and payment gateways. This ability earned ConnectPOS two international awards for retail technology advancement.
You have the entire creative ride with it
Although designed to be one-size-fits-all, no POS can satisfy all retailers worldwide. Unlike its on-premise counterpart, where it's a huge challenge to customize due to infrastructure rigidity, a cloud solution can be altered to fit the needs of its users.
Whether it's a custom receipt, a local language, or a special order type, cloud-based POS providers can make your dreams come true!
Five pillars to make an ideal cloud POS system
We list below the five necessary POS features to determine a perfect cloud-based omnichannel solution.
Real-time data synchronization
Omnichannel selling
Staff management
Performance analysis
Inventory management
On-demand customization
Example of a flawless cloud POS system
Ultimately, we hope you understand what a cloud POS system is and how it can support you immensely. An effective omnichannel solution can be a foundation for long-term success. Therefore, we want to introduce you to some popular cloud-based POS software to kickstart your game.
You can find several trustworthy solution providers, such as Lightspeed, Vend, and Square. Yet today, we want to introduce to you a full-package system, which is the ConnectPOS.
Having a decade of serving multinational enterprises like ASUS and Seed Co, ConnectPOS never fails to amaze users with its immense power to elevate omnichannel performance. As a cloud-based solution, ConnectPOS, with straightforward integration with multiple eCommerce platforms, has all you need to manage multiple locations seamlessly. For an in-depth analysis and recommendations, contact their consultants today!
---
►►► See our products: Magento POS, BigCommerce POS, Shopify POS, Woocommerce POS, Restaurant POS, NetSuite POS, Thailand POS, South Africa POS and Commercetools POS