Understanding the benefits and drawbacks of many different POS systems in the market is vital and necessary to choose the right one for your business. Previously, we discussed the similarities and differences between ConnectPOS and other POS systems. Today, continuing to flow, the comparison of ConnectPOS and Magestore POS is upcoming and worth expecting.
Overview ConnectPOS and Magestore POS
ConnectPOS
ConnectPOS is a cloud-based POS software. This POS system is deemed a leading POS in the market and is famous for its wide range of features and advanced technologies facilitating the omnichannel experience. It can fulfill the distinct needs and demands of all kinds of businesses of all sizes. ConnectPOS covers various industries such as Fashion and Accessories, Footwear, Food and drink retail, etc. ConnectPOS makes transactions in both physical and digital stores become easy and automatic. Most of the ConnectPOS clients are from Asia, the Middle East, America, and Australia.
Magestore POS
Magestore has been working with Magento since its start, aiming to bring Magestore POS e-commerce power into physical stores. Magento merchants can adopt this POS to customize their solutions to fit their distinct needs and demands and expand their business effectively. If you're looking for a well-functioning Magento-native POS for your physical stores, Magestore will be a trusted partner for life.
When using this POS for Magento, you'll own 2 matching systems: Magento system and Magento-native POS. With strong performance & a user-friendly interface, Magestore POS keeps your daily operation smooth all day and every day.
Compatibility
ConnectPOS and Magestore POS have a thing in common that is both of them can work well on multiple platforms regardless of operating systems. Whether it's web-based POS (macOS, Windows) or mobile POS (iOS, Android), ConnectPOS and Magestore POS can handle them all.
However, a seemingly small yet decisive factor distinguishing these 2 POS is that ConnectPOS is compatible with smartphones and tablets. Meanwhile, Magestore POS can only run on iPad and Android-based tablets. This makes ConnectPOS a little bit outstanding and more flexible than the other one. ConnectPOS mobile POS is easy to access through 3 entrances:
Download the ConnectPOS iPad app from the App Store.
Install the PWA that is compatible with both iOS and Android.
Through web browsers on your mobile devices, including smartphones and tablets.
Additionally, being famous for its advanced technology application, ConnectPOS offers retailers extra benefits in terms of compatibility. This POS software comes with AI facial recognition to enhance customer service and help sales assistants with up-selling and cross-selling. With ConnectPOS AI facial recognition, your staff members can:
Notice the very moment a customer walks in.
Review old customers' purchase history, wish list, spending habits, etc. to find suitable assistance.
Identify new customers to recommend loyalty programs.
Recognize shoplifters for better security.
To make the in-store experience more exciting and convenient for customers, ConnectPOS also offers the PWA consumer app and interactive customer screen. With these 2 powerful features, buyers now have more control over their shopping. They can check product information, pay for the purchase, and check out on their own, etc. thanks to the ConnectPOS PWA consumer app. And they can also interact with the customer screen in many ways:
Review their items before paying
Check items stocks
Receive last-minute recommendations for relevant products
Digitally sign
Type email to receive e-receipt
Leave a rating
Integration
E-commerce
Integrating POS systems and e-commerce platforms ensures online businesses' smooth and safe operation. Additionally, all of the e-commerce features and other business tools e-commerce companies provide support digital retailers to seize every opportunity to make their businesses thrive.
Magestore POS only works with Magento just as its name indicates. It deems one of the most powerful POS for Magento merchants and gains lots of trust from them.
ConnectPOS, on the other hand, is now partnering with various commonly-used e-commerce platforms: Magento, Shopify, BigCommerce, and WooCommerce very shortly. This makes ConnectPOS stand out as a versatile POS software application with robust integration with e-commerce platforms. This POS is receiving so much love from retailers on these platforms as its rating is 5/5 on the Magento marketplace and 4.6/5 on Shopify.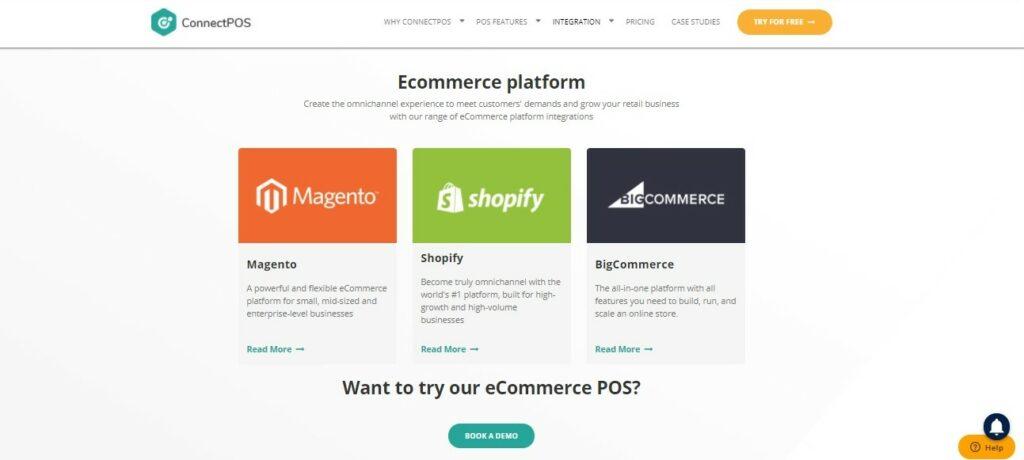 Payment integration
ConnectPOS has a powerful payment integration with many secure and transparent payment gateways such as Paypal, iZettle, Moneris, Authorize.Net, etc. This empowers retailers to provide their customers with a wide range of payment options from cash, credit cards, debit cards, gift cards, etc. Moreover, payment integration in ConnectPOS ensures the security and transparency of digital transactions for e-commerce retailers.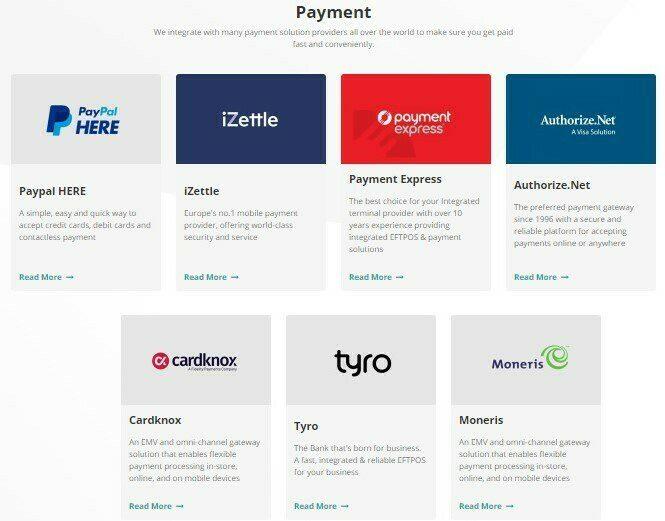 Magestore POS also integrates with many payment providers supporting diverse payment methods. Authorize.NET, Stripe, Tyro, Stripe, and Zippay are worth mentioning.
Features
Order management
Offline mode
This is such a powerful POS feature that every merchant searches for it in a POS system when considering one. This ensures a frictionless working flow for businesses even when the internet is down or unstable.
With ConnectPOS, when the app detects that you lost your internet connection, it will switch automatically to offline mode and pop up a notification on the screen, you don't have to do anything. Even better, almost all features can function normally when the offline mode is on, only except for the real-time synchronization feature. When the internet is back, it turns off offline mode and starts synchronizing offline orders to the whole system. That's why there's no need to worry about misinformation or data loss.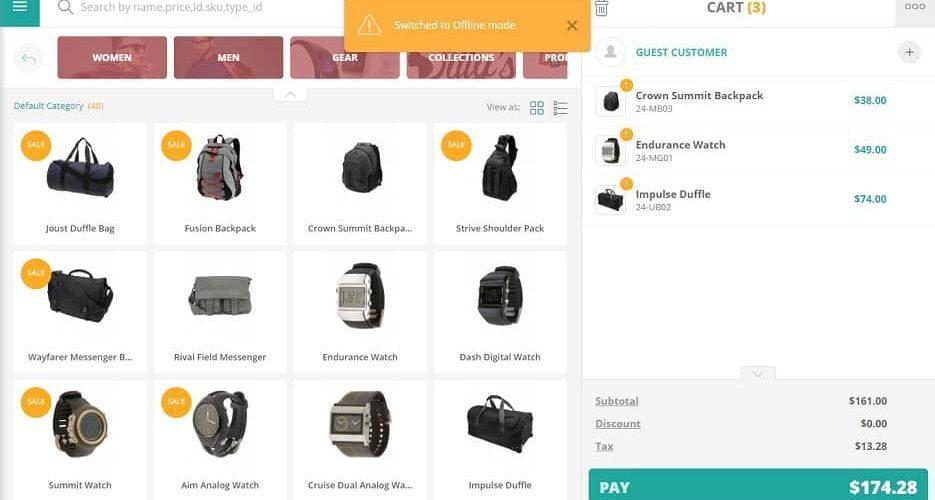 Magestore POS, similarly, provides merchants with offline mode. However, there are, of course, some limitations which, to some extent, prevent stores from running smoothly and properly. For example, store assistants can't add a custom sale or apply a discount directly on Magestore POS when the internet connection is down. And, obviously, data can't be synced in real-time with the offline mode on, either. This might create inconvenience and unproductivity for retail businesses.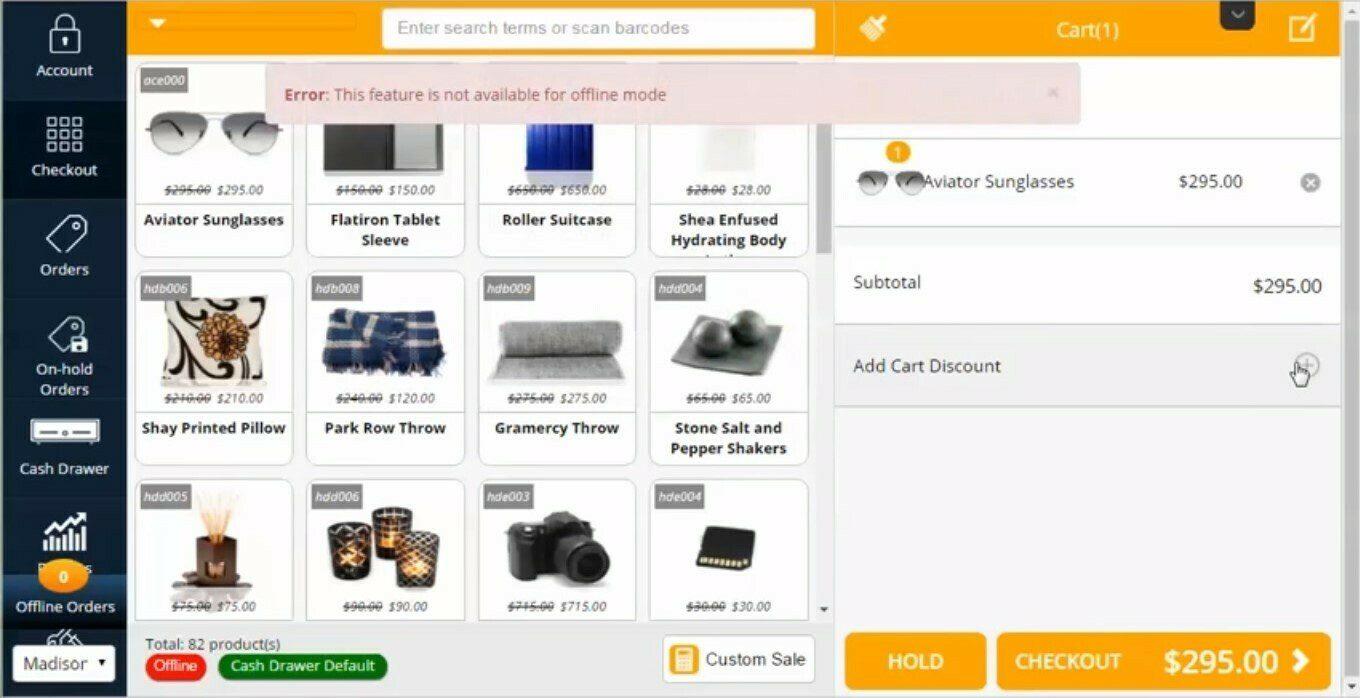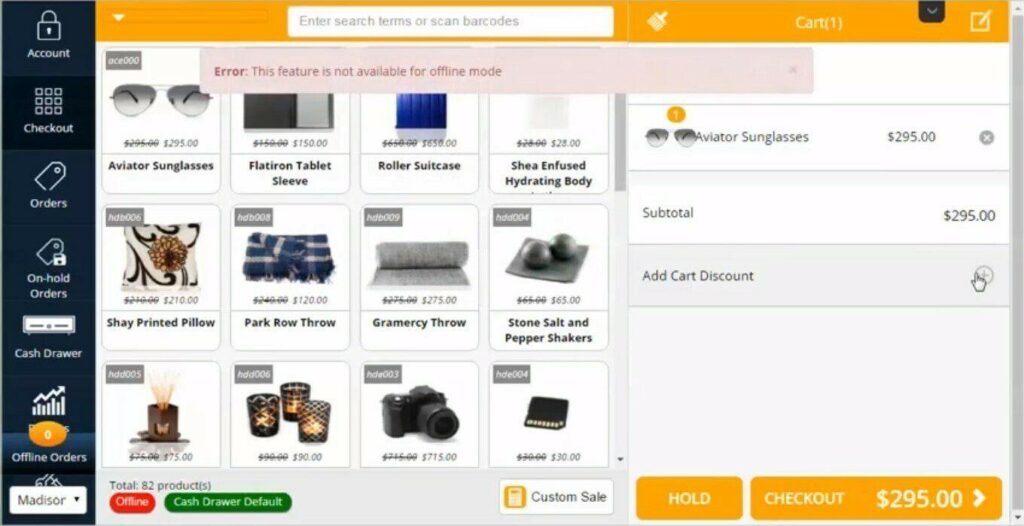 Custom sale
Custom sale is a handy feature that lets shopkeepers and clerks add a temporarily unavailable item into the shopping cart and check out as guests. This feature is extremely useful to sell a temporarily unavailable product, DIY items, handicrafts, etc.
This feature is available in both ConnectPOS and Magestore POS. And these 2 systems are all easy-to-use and quick to create a custom note and check out a custom sale. However, as business owners and operators, you should bear in mind that the custom sale feature in Magestore POS can only be used when you're online. So, we guest that in terms of this feature, they are both winners, yet ConnectPOS outweighs a little bit as you can still create custom sales during offline mode.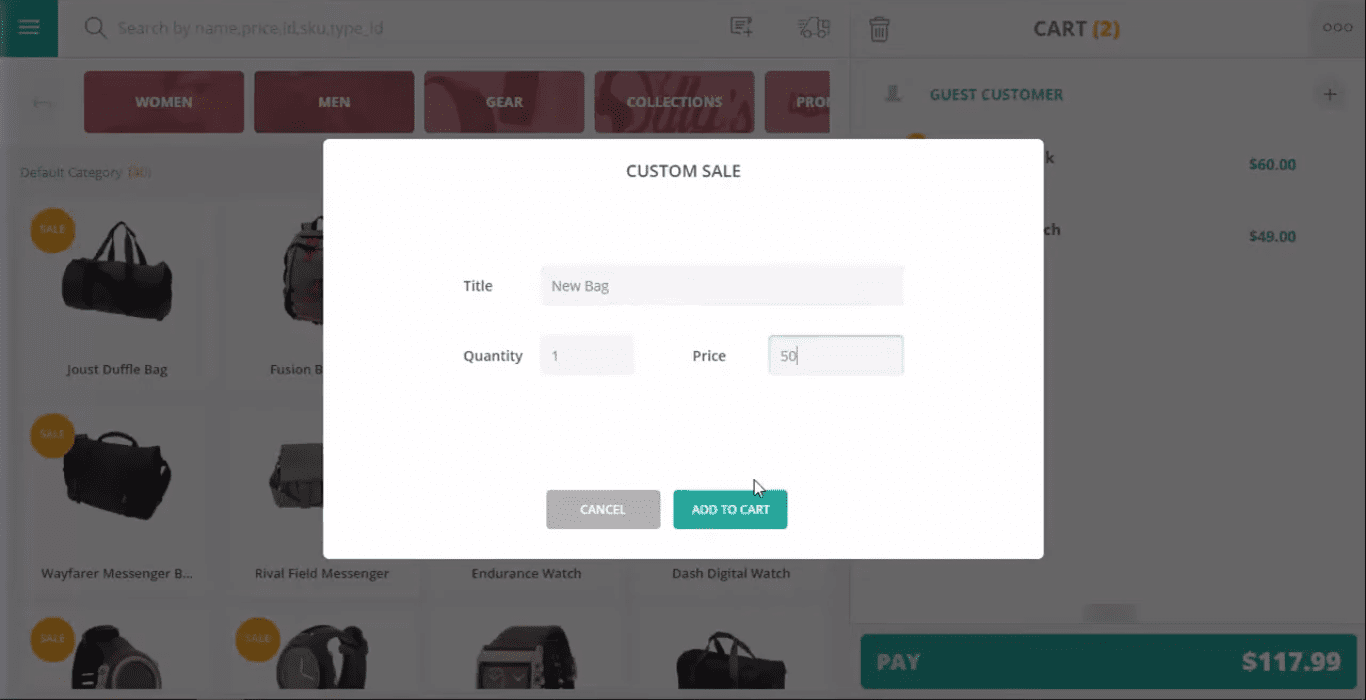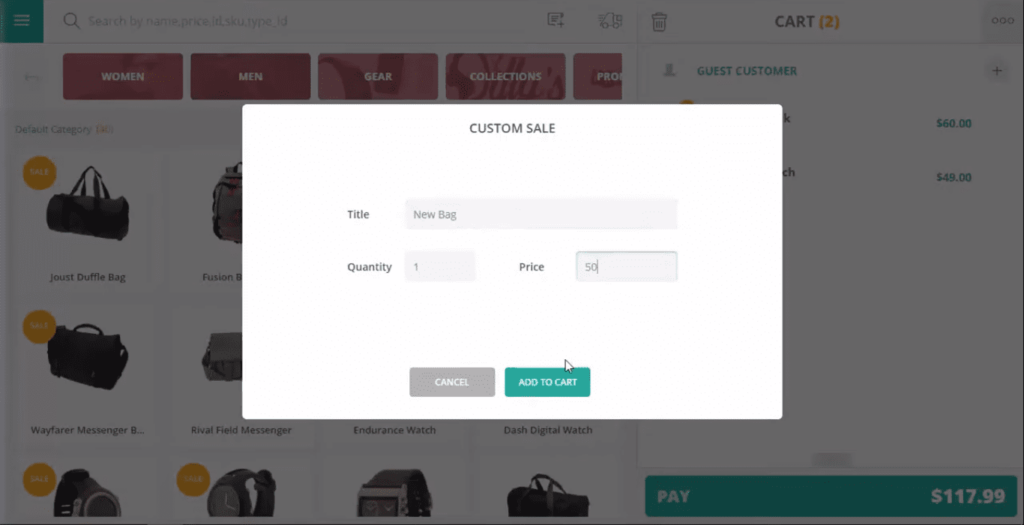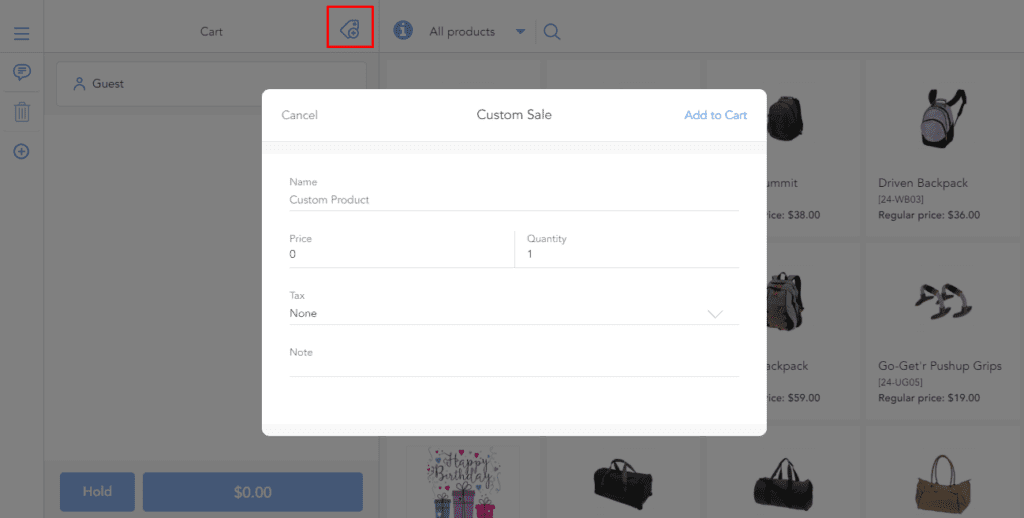 Customer management
Customer loyalty
Repeat customers matter to every single business. Acknowledging that many POS providers are integrating a feature to help retailers boost their customer loyalty through diverse loyalty programs.
Users of both ConnectPOS and Magestore POS can leverage the reward points feature which is well-functioning and effective to award existing customers and attract new ones. These POS systems offer multiple reward points and loyalty integrations for you to choose from. With this feature, retail businesses can allow buyers to earn points after every purchase and pay for the order by reward points. More than that, the customer loyalty feature assists business owners and operators manage and ensure a proper and efficient loyalty scheme.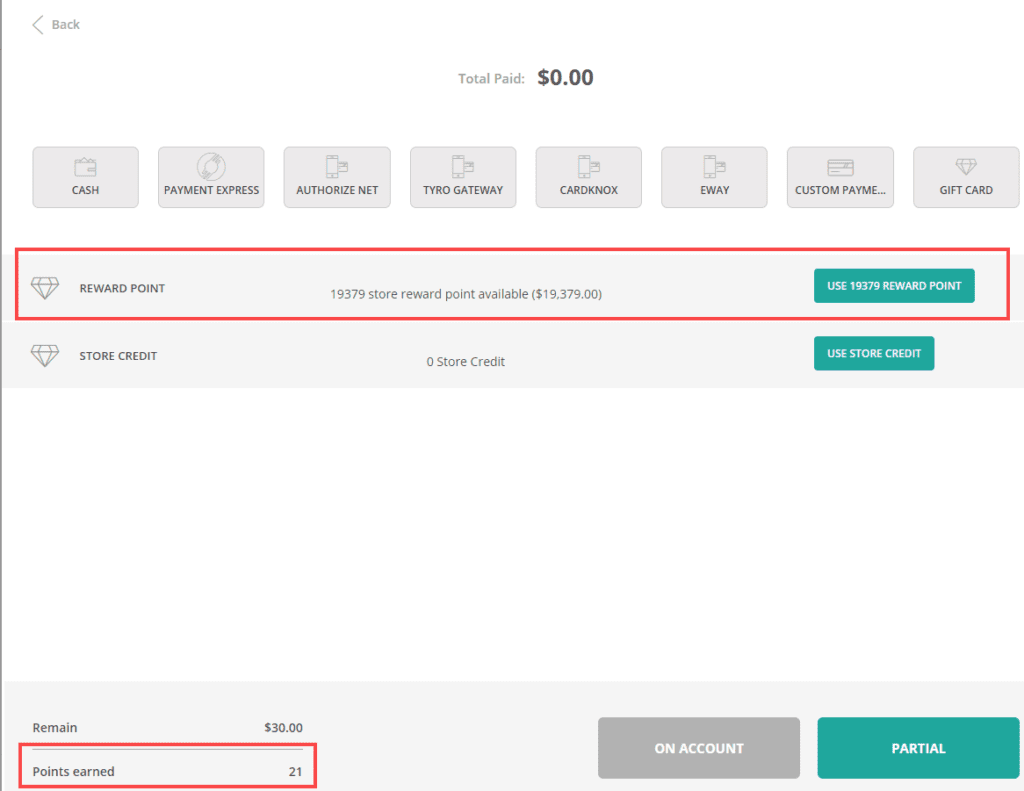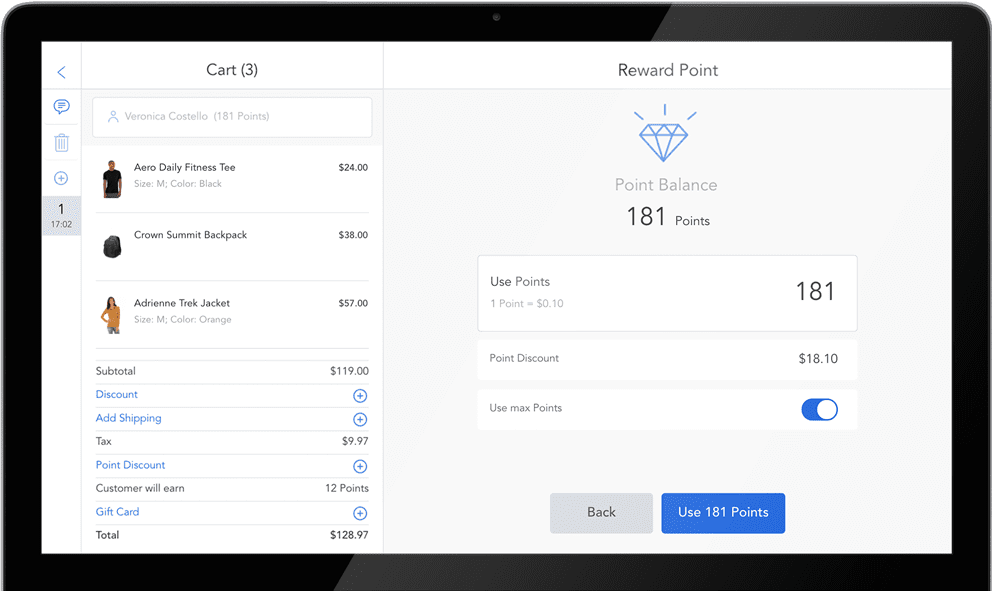 Wish list
Well, there's no winner if only one offers this feature. And it's ConnectPOS.
Offering wish lists is an effective way to reduce shopping cart abandonment and fulfill sales from customers who showed intent but didn't end up purchasing. Additionally, wish lists are beneficial in more than one way. They give customers a friendly reminder of a product that they're interested in and help retailers measure product interest beyond a clear-cut sale.
Some customers may want to experience the products in-store and purchase online later. You can help them save time and make sure they won't forget anything so that you won't lose a sales chance by sending the cart to their wish list.
Inventory management
Real-time synchronization
Since a POS system is supposed to manage multiple stores and multiple warehouses simultaneously, real-time synchronization is particularly necessary. Data from all the different platforms need to be synchronized in real time to ensure a frictionless and flawless business operation. By that, selling an already out-of-stock product can be avoided. You also get low-stock alerts so that you can be always selling without any interruption.
With such technologically advanced and fast-functioning like ConnectPOS and Magestore POS, merchants can feel assured with proper synchronization on a real-time basis in essential business elements. From warehouse management, store management, e-commerce function, and reporting system, all are synchronized in real-time.
Customer supports
With ConnectPOS, retailers can easily report a bug 24/7 in 4 ways:
Submit a ticket via the ConnectPOS help desk.
Can also find this link by navigating to the menu bar on the top of the ConnectPOS website and click "Support". When you submit your ticket, you can set the priority of your problem as Normal/ High or Urgent.
Directly send an email to

[email protected]

.
Talk to ConnectPOS Solution Managers who have been in touch with you. They will summarize your problem and send it to the Developer team.
With Magestore POS, you can always find help from:
Help center
Insightful articles on the Magestore website
Help ticket submission
Pricing plans
Regarding pricing, ConnectPOS always takes pride in providing simple and straightforward plans with no hidden fees. There are 4 plans you can choose from, starting with Standard one at US$39 per device per month if you pay annually. Retailers get more benefits as they upgrade their plans including Advanced and Premium. Even better, ConnectPOS also lets their clients customize their own plans so that they can "DIY" a POS system that suits both their business and their pocket.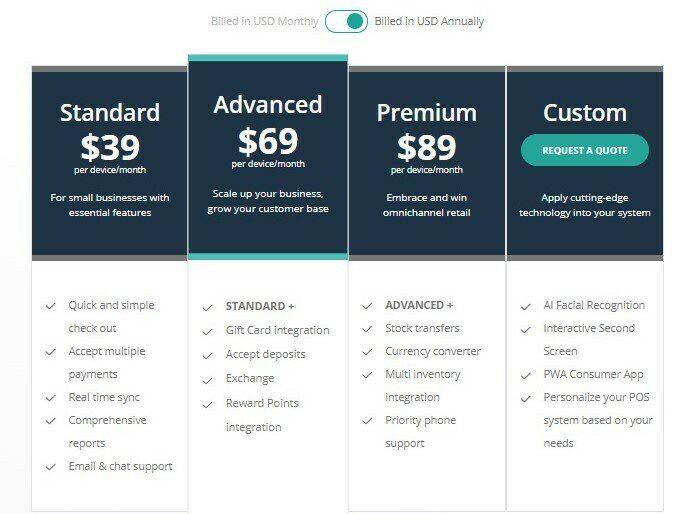 Meanwhile, you need to select 'Get a quote' to receive pricing plans from Magestore POS as they don't publicize the plans on their website. However, you can still look at the benefits offered in each plan for reference.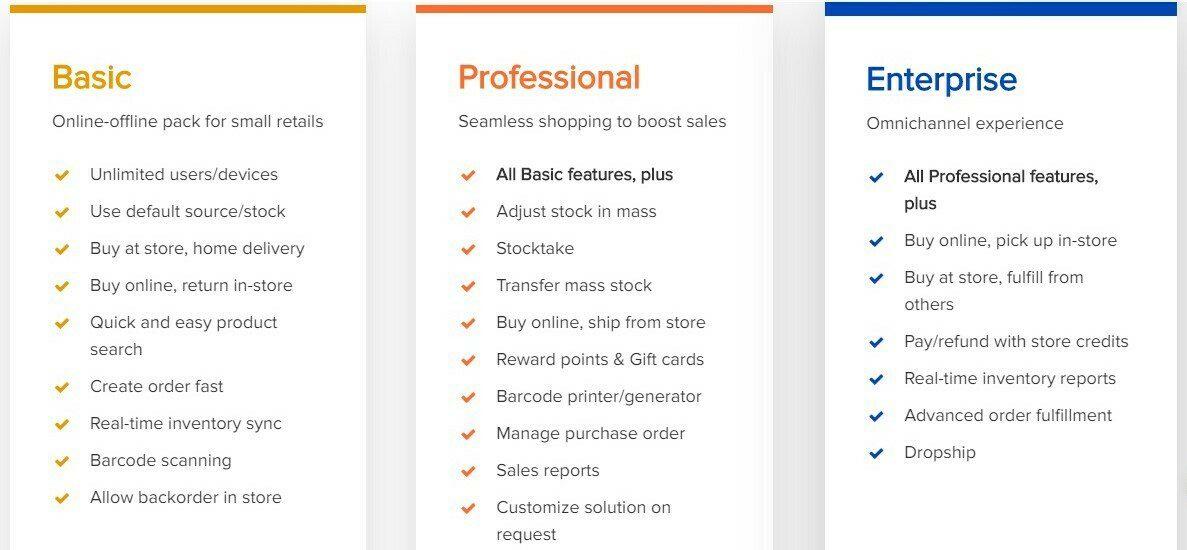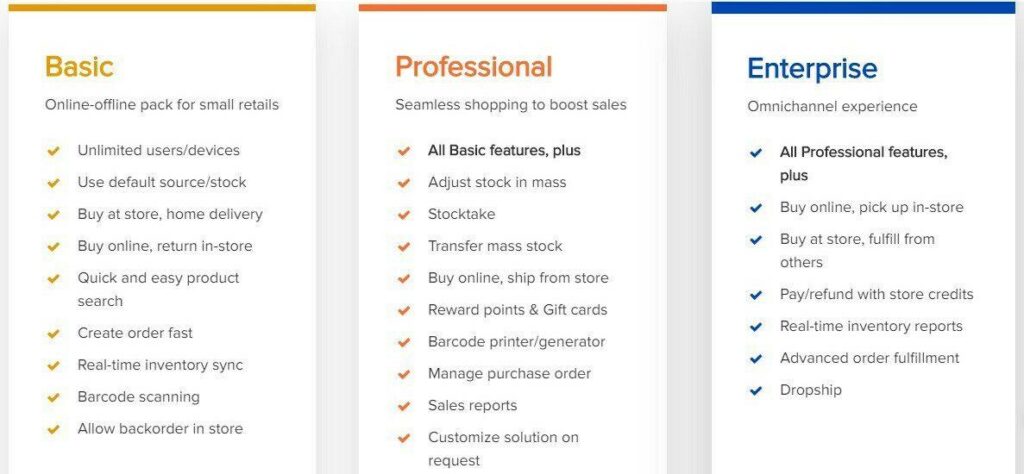 Comparison checklist


You can view full comparsion checklist here.
Final words
ConnectPOS and Magestore POS are direct competitors for Magento POS providers. As we walked through the POS review and comparison above, we hope we helped choose the right one for your business. If you haven't made up your mind yet and still want more references, how about taking a closer look at the POS system right at your fingertips right now? ConnectPOS, one of the best cloud-based POS for omnichannel retailers, prides itself on its robust and feature-rich POS system. So, give us a call, and give your business the opportunity to thrive! Or you can book your 14-day free trial now to immediately experience our high standard product and conscientious customer service!
---
►►► See our products: Magento POS, BigCommerce POS, Shopify POS, Woocommerce POS, Restaurant POS, NetSuite POS, Thailand POS, South Africa POS and Commercetools POS