It is nearly the end of 2020, and with the new year ahead, maybe it is time to throw that chunky cash register away and get the latest POS system. As a New Year gift, we are happy to give you the ConnectPOS and FooSales POS review, the two most common POS solutions. One of these might be the perfect one for your business. 
Overview ConnectPOS and FooSales POS
ConnectPOS 
ConnectPOS is one of the best POS systems, famous for its feature-rich cloud-based solution and advanced technology. It covers various kinds of business, for example, Food & Drink, Toys & Hobbies, Nutrition & Supplements, etc. The system makes transactions easier for business owners, both physical and digital shops.
FooSales POS
Initially launched in 2018 and designed specifically for WooCommerce customers, FooSales POS has grown significantly and is now actively used by customers worldwide. FooSales POS is the perfect solution for markets, retail stores, mobile events, etc. 
Compatibility
One of the most powerful functions of a POS system is being able to operate on multiple platforms. Whether it is PC-based (macOS, Windows) or tablets and smartphones (iOS, Android), both ConnectPOS and FooSales POS are compatible with all of them.
More specifically, retailers could easily access ConnectPOS mobile POS by any of these 3 ways:
Through web browsers on mobile devices
Install PWA
Download the ConnectPOS app from the App Store
Integrations
ECommerce platforms
EVERY BUSINESS OWNER ALWAYS WANTS a POS system that could integrate with multiple eCommerce platforms. By integrating with eCommerce platforms, the system could process a safe and frictionless online transaction.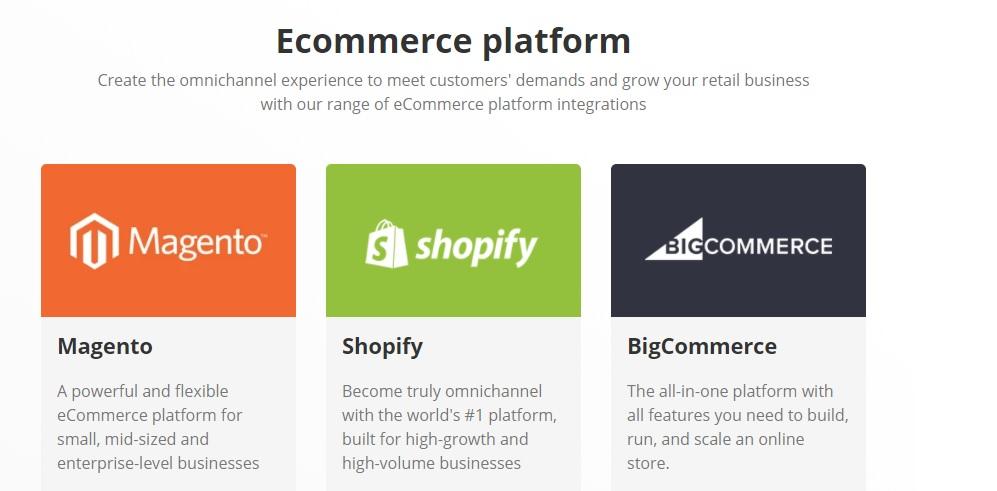 ConnectPOS eCommerce integrations
FooSales POS only partners with WooCommerce, making it less of an advantage than ConnectPOS, which integrates with many eCommerce partners such as Magento, Shopify, BigCommerce, and WooCommerce.
Payment integrations
For a secure and transparent transaction, it is essential that businesses have payment integration. Moreover, it helps retailers to be able to offer their customers different payment options. Customers could have their orders paid by cash, cards, or gift cards. 


ConnectPOS payment integrations
With that being said, ConnectPOS integrates with many payment solution providers such as Moneris, Payment Express, Cardknox, etc.
FooSales POS, on the other hand, does not limit retailers to a specific service provider. Retailers could use any card processor that suits their needs.
Features
Order management
Offline mode
Having an offline mode feature is what every retailer would like to have for their POS systems. The ability to work offline would create a smooth working flow for businesses, even when the internet is down. 
Both ConnectPOS and FooSales POS are proud to offer this powerful feature within their systems. 
Whenever there is internet trouble, the offline mode is turned on automatically. Retailers could continue selling their products since almost all of the features could function normally. Every process from adding items to shopping carts, applying discounts to making payments are all possible with offline mode. Customers would still be able to pay even with debit/credit cards. After the internet is back to being stable, all the data that were made during offline mode would be synced to the back-end of the system. Therefore, retailers would not have to worry about sales being lost. 
Click-and-collect
Because of COVID and social distancing rules, customers were not able to shop as freely and comfortably as they wanted to, so they are slowly switching to online shopping. Therefore, it has been difficult for brick-and-mortar stores retailers to make sales this year. With that in mind, businesses need to initiate contactless shopping, for example, click-and-collect, also known as buy online, pickup in-store (BOPIS). Click-and-collect features not only follow health laws but also reduce in-store shopping time for busy customers and create a quick and convenient process. 
Unfortunately, FooSales POS has not been able to offer the click-and-collect feature, but not to worry, business owners could find this feature in ConnectPOS.
Save and retrieve the cart
This feature gives retailers better control of the checkout process. When a customer wants to leave their shopping cart to go back for an additional product, the cashier would then put that cart 'on hold' and continue to serve other customers. In a nutshell, the save and retrieve cart feature helps reduce cart abandonment rates and boost customer satisfaction along with sales revenue.
The feature is only available for ConnectPOS users. Retailers could add items and apply a discount to the saved cart for later retrieval, so the order could be completed. 
Checkout process
Create and customize receipts
For every retailer, a receipt plays an important role since not only it contains all the information of the order transaction, but it could be used as a great marketing tool to leverage the business. Retailers could further promote their brands by having the receipt designed with distinct Corporation Identity Program (CIP) elements. Information such as sales and promotions programs, store address, customer information, cashier's name, etc. could be added onto the receipt. Retailers could also edit word fonts, style, etc. based on the needs and wants of customers or sellers. Receipt customization is an outstanding feature for a POS system. 
Unfortunately, the feature is offered by ConnectPOS only.
PWA consumer app
ConnectPOS proudly offers a unique feature for Magento users – PWA consumer app. It is a website in the form of a mobile app. With this advanced technology, customers could find information about the product just by scanning the barcode of that product. Furthermore, they could even skip the checkout counter by checking out all by themselves. 
With PWA, retailers could have a faster checkout process and a shorter waiting time for customers, resulting in increased in-store performance and customer satisfaction.
Multiple payment methods
Online shopping is on the rise, and because of that, customers want to have more options for payment. They do not want to pay by cash or card individually anymore, they want to be able to combine and mix between different methods. Therefore, businesses have no other option but to satisfy their customers by offering various payment choices.
For FooSales POS, customers could make payment by common methods like cash, credit/debit cards, etc.
For ConnectPOS, customers could pay by cash and card, multiple cards, or gift card and card. Moreover, customers could have other options like layaway payment, split-tender payment, or deposit for their purchases. 
Inventory management
Real-time synchronization
This is an essential feature of a POS system since it is supposed to manage multiple stores and multiple warehouses simultaneously. In order to have an effortless and frictionless transaction, all the data from all platforms need to be synchronized on a real-time basis. For example, when a customer makes an online order, the inventory of the offline store stays the same because they were not synchronized in the system. With a real-time synchronization feature, that will not be a problem since everything is being synced. Retailers would also receive an alert for low-stock situations, so they would know beforehand and have the items restocked and continue to make sales without any interruption. 
With advanced technology and robust systems, ConnectPOS offers proper synchronization for retailers. Everything from store and warehouse management to reporting system is all synchronized, in real-time. 
Reporting system 
For every type of business, it is crucial to keep track of all aspects and elements. This is why an accurate and proper reporting system of a POS is important to ensure a successful outcome. 
ConnectPOS would collect data from all channels available and produce comprehensive reports. Retailers could access more than 20 reports from anywhere and anytime on any mobile device with the ConnectPOS cloud-based system. This is a convenient and flexible way to manage a business. 
On the other hand, FooSales POS solely offers daily sales summaries of sales such as the number of sales and amount of products sold.
Customer support 
ConnectPOS is available 24/7. Customers could contact by:
Send email to

[email protected]

Submit a query via the ConnectPOS website
Contact Solution Manager if already installed ConnectPOS
Contact FooSales POS and retailers would get a response in 48h:
Submit a query via website
Submit a ticket via Help Center
Pricing plan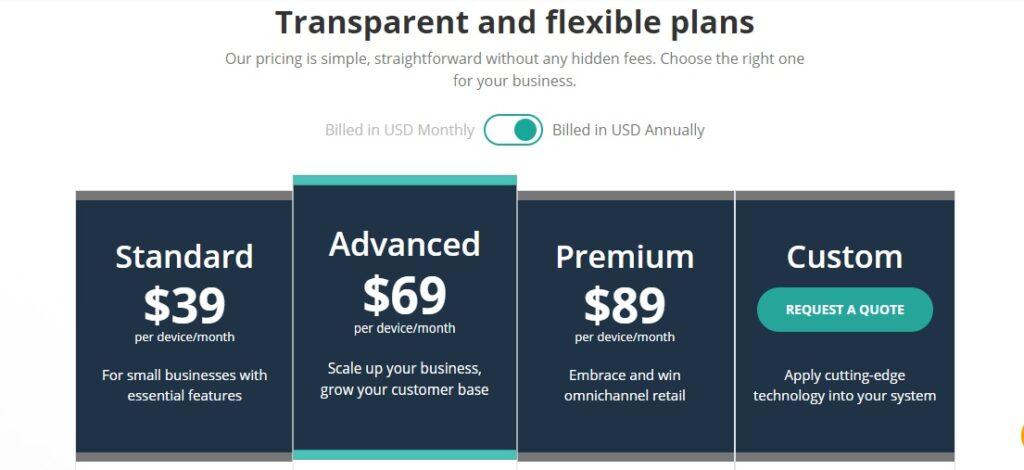 ConnectPOS provides simple and straightforward plans with no hidden fees when it comes to pricing. Retailers could choose from any of the 4 available plans, starting from $39/month (paid monthly) and $49/month (paid annually). ConnectPOS also offers a custom plan for retailers that fit their budget and business needs. Retailers could experience a 14-day free trial without any payment information needed. 


FooSales POS offers a single domain plan for $15/month and multiple domains plan for $45/month. Retailers could also subscribe to a yearly plan for a lower price, $144/ year for a single domain and $429/year for multiple domains. FooSales POS offers retailers a 30-day free trial (no credit card details required). 
And the winner is?
We have reached the end of the ConnectPOS and FooSales POS comparison and saw what each brought to the table. The question now is have you found the perfect one for your business? If not, why don't you look at the one right at the tip of your finger? 
---
►►► See our products: Magento POS, BigCommerce POS, Shopify POS, Woocommerce POS, Restaurant POS, NetSuite POS, Thailand POS, South Africa POS and Commercetools POS