Christmas Day is just a day away from now. People are rushing to get their last-minute presents in time before the stores are closed. Businesses are also rushing to find a great POS system to make the busiest and most profitable time of the year. With that in mind, today's article will focus mainly on the 2 most common POS systems. We are happy to give you a ConnectPOS and Amasty POS review. 
Overview ConnectPOS and Amasty POS
ConnectPOS
ConnectPOS is a leading cloud-based point-of-sale software famous for its feature-rich and advanced technology system. It covers every type of industry imaginable, from Food and Drink, Footwear, Hobby and Toys, to Fashion and Accessories. ConnectPOS makes transactions in both online and offline stores easier for retailers. 
Amasty POS 
Founded in 2009, Amasty incorporated a highly skilled team, created more than 250 extensions for Magento 1 and 2 platforms, and served over 100.000 clients. Amasty focuses on the quality of their product and the service they provide. 
Compatibility
One of the most powerful features of a POS system is the ability to operate on multiple platforms. Both ConnectPOS and Amasty POS are proud to be compatible with different devices. Does not matter if it is PC-based (macOS, Windows) or smartphones and tablets (iOS, Android), ConnectPOS and Amasty POS could run on all of them.
More specifically, there are 3 easy and convenient ways to access mobile POS for ConnectPOS merchants:
Through web browsers on mobile devices
Download the ConnectPOS app from App Store
Install PWA, which is compatible with both iOS and Android
Integrations
ECommerce platforms 
Business owners always look for a POS that integrates with multiple eCommerce platforms, it provides friction-free and safe online operations for them.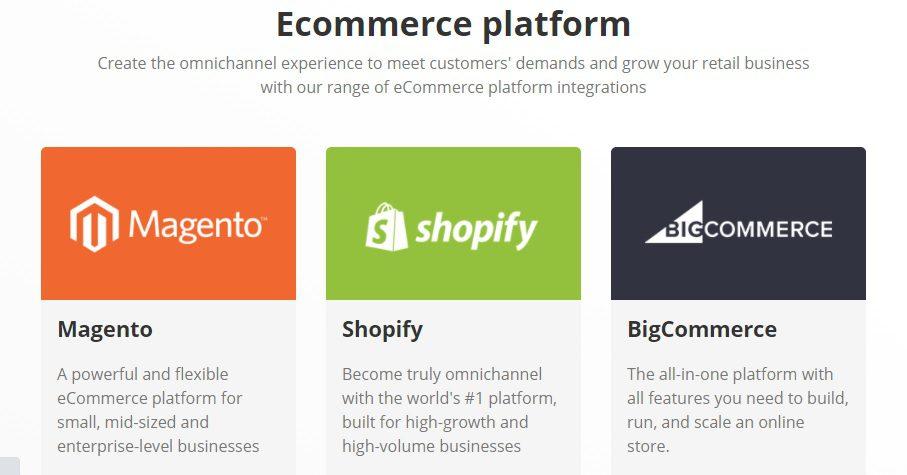 ConnectPOS partners with numerous eCommerce platforms such as Magento, Shopify, BigCommerce, WooCommerce, and commercetools. The integrations will make sure businesses have a seamless and secure operation. 
On the other hand, Amasty POS only integrates with Magento. Business owners who wish to have professionally developed Magento plugins could checkout Amasty.
Payment integration
Having a payment integration is a vital part of a POS system for a transparent and secure transaction. Moreover, it allows retailers to offer various payment options for customers. 


With that being said, ConnectPOS partners with many payment solution providers such as Paypal, Moneris, Tyro, etc. Customers could make payments with cash, or credit/debit cards, or even gift cards.
Amasty also integrates with many payment processors like Paypal and Stripe. Furthermore, customers could even make contactless payments through GooglePay and ApplePay.
Features
Order management
Offline mode
When shopping for a POS system, almost every business owner would want their systems to be able to work offline. The feature enables a smooth working flow for when a business is experiencing an unstable internet connection. 
For ConnectPOS, the system will automatically switch to offline mode when detecting trouble with the internet. Almost all features will function normally with the offline mode. Retailers could continue with the payment process, from putting products into the cart, applying discounts to making payments. Customers could still pay with cash, cards, etc. as if nothing happened. When the system is back online, the data will synchronize to the back-end so retailers will not have to worry about data being lost.
Similar to ConnectPOS, Amasty POS could also operate in offline mode. Users of Amasty could make payments normally, even with contactless payments payment like GooglePay and ApplePay.
Click-and-collect
COVID and social distancing have been keeping customers from being able to shop as freely as they want to, so they are more likely to do their shopping online. Therefore, it has been difficult for retailers this year, especially for brick-and-mortar stores to make sales. With that in mind, businesses need to stay on top of the game by initiating contactless shopping, for example, buy online, pickup in-store (BOPIS), also known as click-and-collect. The goal of this is to reduce in-store shopping time for busy customers as well as creating a convenient and quick process. 
With ConnectPOS, customers could place orders on their devices and then pick them up at stores when they want to. Customers could choose between paying online or later at the stores.
For the case of Amasty POS, users could have their systems integrate with other extensions which support click-and-collect since the POS itself does not have this feature.
Multiple warehouses in one order
This is an essential feature if the business has more than 1warehouse. When making an order online, customers are likely to abandon their carts if the item they want is out of stock. This could cause businesses to potential customers. But with the multiple warehouses in one order feature, customers will be able to order different products from different warehouses in only one order. They will not have to wait for a specific item to be restocked anymore. 
Fortunately, ConnectPOS is able to offer users this one-of-a-kind feature.
Checkout process 
Create and customize receipts
A receipt does not only contain all the information needed for the transaction but a great marketing strategy for business owners to leverage their stores. Retailers could promote their brands by designing the receipts with distinct Corporation Identity Program (CIP) elements. Retailers could add information such as promotions and sales programs onto the receipt, along with store address, name of cashier and customer, etc. Hence, being able to customize receipts is an outstanding feature in a POS system. 
Unfortunately, this feature is only available for ConnectPOS users, where they could edit word fonts, style, customer data, etc.
PWA consumer app
ConnectPOS proudly presents a unique feature for Magento users –  PWA consumer app, a website of a brand – but in the form of a mobile app. With the advanced technology, customers will be able to find information about the product, simply by scanning the QR/barcode of that product. Customers could even skip the checkout counter and check out the items all by themselves. The PWA helps retailers by speeding up the checkout process and reducing customers' waiting time. With PWA, store performance and customer satisfaction will be increased. 
The feature is also available for Amasty POS users. PWA in Amasty could function even without an internet connection. It gives retailers other advantages such as speed increasing, responsive interface, etc. Users of Amasty could use the app on any devicedevices: PC, laptop, smartphone, or tablet.
Multiple payment methods
With the rise of online shopping, customers want more options when it comes to payment methods. They do not just want to pay by cash or card anymore. They want the ability to combine and mix different methods of payment. Therefore, businesses have no choice but to satisfy customers' needs by offering various payment methods.
Both ConnectPOS and Amasty POS offer multiple payment options in their systems. When making a purchase, customers could choose to pay by cash and card, multiple cards, or maybe gift card and card. More than that, customers could also use options like layaway payment, split-tender payment, and deposit for their purchases. 
Configurable sales tax
ConnectPOS could do well in synchronizing tax settings with the platform settings of retailers. Taxes will be calculated even when the internet connection is unstable thanks to the offline mode feature. ConnectPOS calculates tax based on product tax class, customer tax class, and address for calculating tax (e.g. shipping address, billing address, shipping origin). The system will automatically pull the product tax class and customer tax class data from eCommerce platforms (which it integrates with). Ergo, all retailers need to do is configure the address to calculate tax. All of this makes the work so much easier and friction-less for business owners. 
For Amasty POS, the system also supports tax rates. Retailers could specify what per cent should be added automatically to the order amount. Retailers could also set as many tax rules as needed for different customer groups, and countries, as well as other conditions. 
Inventory management
Real-time synchronization
Because a POS solution is supposed to manage multiple stores and warehouses simultaneously, real-time synchronization is an essential feature. To make sure a flawless and effortless business transaction, data from all different platforms need to be synchronized on a real-time basis. For example, when a customer orders an item online, but the system is not synchronized so the inventory of the offline store will stay the same. But with real-time synchronization features, accidentally selling an out-of-stock product will be avoided. Furthermore, retailers will also get a low-stock alert so they could make a sale without any interruption. 
With advanced technology and robust solutions, both ConnectPOS and Amasty POS offer a proper synchronization on a real-time basis. Business owners could be assured that everything from store management, warehouse management to reporting system, are all synchronized, in real-time.
Reporting system
No matter what kind of business, keeping track of all elements and aspects is crucial to ensure a successful outcome. This is why a proper and accurate reporting system is very important for a POS system.
ConnectPOS collects data from all available channels and produces more than 20 comprehensive reports for retailers. Retailers could access the reports from anywhere and at any time on any mobile device with ConnectPOS cloud-based system. This is a flexible and convenient way to manage a business.
The module of Amasty POS includes a statistical dashboard using which retailers could identify what shops perform better, who the best seller is and stimulate employees to reach new goals.
Customer support
Interested business owners could contact ConnectPOS 24/7 by:
Submit a ticket via ConnectPOS website
Send email to

[email protected]

Contact Solution Manager if already installed ConnectPOS. The request will then be sent to the Developer Team of ConnectPOS
For Amasty, retailers could contact from Monday to Friday by:
Create a ticket via Amasty website
Contact directly by phone
Pricing plan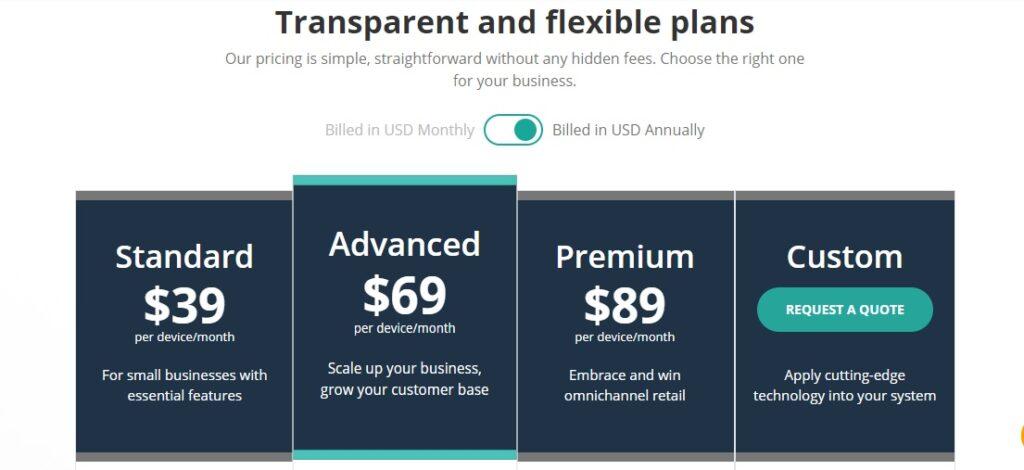 When it comes to pricing, ConnectPOS provides simple and straightforward plans with zero hidden fees. There are 4 plans to choose from, starting with $49/month and $39/month if paid annually. If needed, ConnectPOS offers a custom plan where retailers could DIY to fit their business and budget best. All it needs is just to contact their sales team. Moreover, ConnectPOS has a 14-day free trial so retailers could try the system first before actually paying for it. 
The pricing plan of Amasty POS is still updating. But one thing for sure is that business owners could have free installation service and a 60-day money-back policy.
What is your choice?
ConnectPOS and Amasty POS have attractive features and bring back different benefits for business owners. If you are still wondering which one to choose for your brand, how about looking at the one that is right within your reach? 
---
►►► See our products: Magento POS, BigCommerce POS, Shopify POS, Woocommerce POS, Restaurant POS, NetSuite POS, Thailand POS, South Africa POS and Commercetools POS