Regardless of whether you are a consumer or a business operator, almost everyone nowadays is acquainted with things like mobile devices, mobile consumer apps, or even mobile POS. In this era where everything is transforming toward the mobile version, mobile commerce was born as a more flexible and versatile electronic commerce (e-commerce). The retail space has been witnessing rapidly growing mobile commerce trends lately. 
But what is mobile commerce? And does it matter to businesses? In today's article, we will assist you in finding the answers to these questions.
What is mobile commerce?
Mobile commerce refers to the buying and selling of goods and services through mobile devices such as smartphones and tablets. Mobile commerce is like the mobile version of e-commerce. It allows customers to do their shopping online without any desktop computer needed.
Mobile commerce includes in-app purchasing, mobile banking, virtual marketplace apps like the Amazon mobile app, or a digital wallet like Apple Pay.  
Advantages of mobile commerce for business owners
A previous study has shown that 70% of mobile searches go into action within an hour of the search. Accordingly, mobile commerce benefits businesses in many ways:
Trigger buyer journey
Widen reach and accessibility
Approach customers at the right time
Improve customer experience
Communicate with customers in very direct ways (such as through push notifications)
Personalize content (The more specific and personal your offers are, the better results you will get)
Mobile commerce statistics
According to research, in 2018, the world spent 18 billion hours using shopping apps in total. Specifically, the global mobile commerce spending reached $2.3 trillion in 2019.
By the end of 2020, it is predicted that mobile commerce will account for nearly half of the percentage share of electronic commerce. And this number is expected to increase to almost 54%, making mobile commerce outperform PC-based commerce by the end of 2021.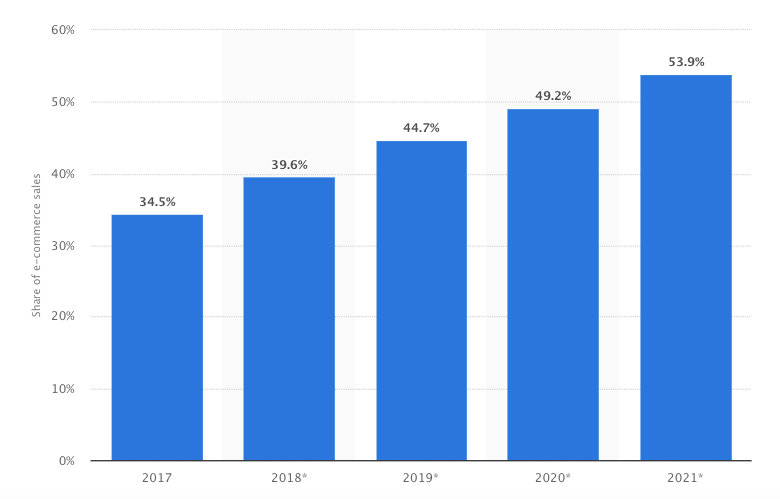 Not-to-miss mobile commerce trends
Shopping experience app
Shopping experience app (or retail consumer app), has been emerging as a tool that businesses leverage to improve their customer shopping experience and eventually, to boost their sales performance. 
According to research conducted by Adweek, 81% of shoppers go online to research products beforehand when making purchases. However, nowadays,  business owners are more and more tech-savvy and proactive. Rather than relying on customers to find them online, businesses with an app can earn a presence on a consumer's smartphone or tablet.
7-Eleven, Nordstrom and ASDA are retailers leveraging mobile apps
Particularly, there has been a trend among retailers to adopt progressive web apps (PWA) into their business recently. Being the hybrid of a regular website and its mobile app, PWA has inherited the good traits of both a website and a native app. It loads faster, requires updates less frequently, is less expensive than a native app while being able to reach a large number of users just like a website. 
Artificial Intelligence (AI)
At its core, AI is the technology that enables machines to mimic human actions and thoughts. With that being so, AI can literally act as a supportive side-kick for mobile commerce retailers to elevate user experience and improve their business performance. And it is a fact that mobile commerce companies have been putting in a big chunk of their marketing budgets into this technology.
Product recommendations: By adopting machine learning (a sub-field of AI), apps can track and understand customers' behaviors according to their previous purchase, searching pattern, etc. Based on that, they make personalized product recommendations for each customer. A retailer that has innovated its mobile app with AI adoption is H&M.
Product recommendations on H&M mobile app
AI-powered chatbots: AI chatbots have taken customer service to the next level by leveraging its AI ability to send notifications, locate products, make product recommendations, and communicate with customers, all by themselves. And the fashion bot Enki generated by Asos has set the bar for the retail chatbots.
Omnichannel shopping experience
This mobile commerce trend refers to the seamlessness of customers using many platforms when doing their shopping, yet their experience is frictionless and smooth. It unifies retail by synchronizing mobile app integration activities with in-store POS systems.
An omnichannel allows shoppers to do something like browsing in-store, scanning barcodes to get information about products with the mobile app and then adding products to the cart to purchase later at home.
Social commerce
Social commerce is the mobile commerce trend of selling something directly using social platforms such as Facebook, Instagram, Twitter, etc. According to research, 51% of millennials are more likely to buy products via social media. 
The introduction of Instagram Shopping Posts in 2018 opened the door to a whole new era of social commerce and mobile commerce in general. 
Instagram shopping posts
Social commerce is likely to expand in 2020 as more and more retailers are trying to put their foot into this highly competitive yet extremely attractive and highly potential market. 

The future of mobile commerce
To help you understand the potential of mobile commerce, here are some key takeaways about the expansion of the trend in the near future, according toresearch:
Mobile commerce will outperform non-mobile commerce in 2021.
In 2021, mobile commerce sales will account for over half of e-commerce sales.
More than half of retailers already have a mobile app. And over 50% of the rest is planning to build one real soon.
The total number of US-based shoppers who make mobile purchases will reach 168.7 million.
The volume of mobile commerce sales will reach $336 billion this year.
Wrapping it up
Lately, there has been a race of businesses involving mobile commerce in their system. And mobile commerce trends are expected to continue expanding at a rapid pace in the near future. In order to not become obsolete, it is necessary for business owners to equip their business with not merely a mobile commerce system, but more than that, an outstanding one. The key to such a system is a technology-advanced POS system.
At ConnectPOS, we have all the sources and abilities to develop one of the best cloud-based POS software which contains everything you need in a POS system. Particularly, to support mobile commerce, we have built a PWA consumer app ensuring an omnichannel shopping experience for your customers. Our app is well-functioning and feature-rich with useful features like: 
Get access by QR code
Scan the barcode for product information
Order out-of-stock items
Personalized recommendations
Easy self check-out
To explore full features of the ConnectPOS PWA consumer app, book a free trial HERE!
---
►►► See our products: Magento POS, BigCommerce POS, Shopify POS, Woocommerce POS, Restaurant POS, NetSuite POS, Thailand POS, South Africa POS and Commercetools POS