Explore the top 6 clothing store POS systems (point of sale) in the United Kingdom, each offering unique features and benefits to enhance your retail operations. From inventory management to seamless transactions, find the perfect solution to elevate your clothing business to new heights.
Best Clothing Store POS System in the United Kingdom
The increasing number of clothing retail stores in the UK, reaching 12,215 in 2021 with a notable rise of 882 stores from the previous year, underscores the importance of implementing efficient POS systems. As the fashion retail expands, reliable Point of Sale becomes paramount to managing transactions, monitoring inventory, and enhancing customer experiences. Here are the top 6 clothing store POS solutions in the UK:
ConnectPOS
ConnectPOS is a leading cloud-based clothing store POS system designed to cater to the specific needs of omnichannel retailers, particularly boutiques and fashion businesses. With its extensive feature set and flexibility, this POS offers various benefits, making it an ideal choice for clothing stores of all sizes. Notable advantages include user-friendliness, effectiveness, affordability, and easy scalability as your business grows.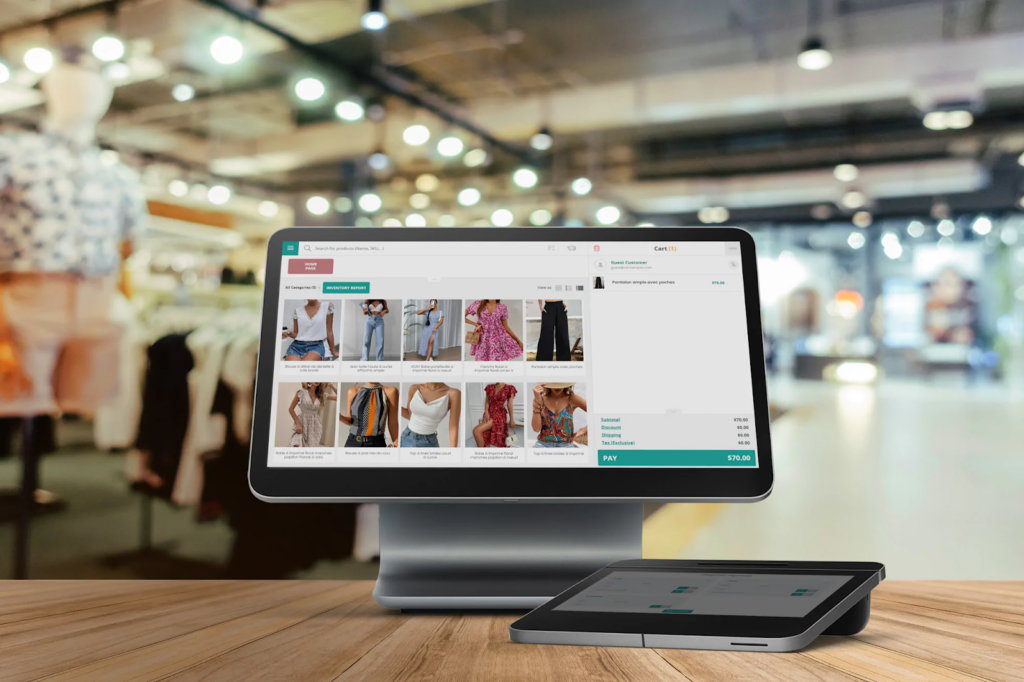 Key Features:
Seamless and fully automated synchronization, enabling offline functionality.
Real-time stock updates and efficient multi-warehouse management.
Support for multiple payment methods, including shop credits, gift cards, layaway, refunds, and exchanges.
Streamlined handling of pre and backorders for enhanced order management.
Team management tools, facilitating performance analysis, task assignments, and access control.
Additional options such as self-checkout and click-and-collect to enhance the customer experience.
Pros:
Comprehensive solution with robust built-in inventory, order, and product management features.
Customer-oriented self-checkout solution, allowing shoppers to scan QR (quick response) codes and complete transactions independently through the ConnectPOS web app.
Reliable 24/7 customer support.
Cons:
Pricing details could vary based on subscriptions and other factors.
Lightspeed
Lightspeed Retail is a cloud-based clothing store POS system tailored for merchants, offering a complete solution with software and hardware components necessary for seamless transactions. Its outstanding inventory management features enable business owners to manage stock across various locations efficiently, incorporate product variations, and place inventory orders through connected vendor catalogs.
Key Features:
Advanced inventory management capabilities for streamlined stock control.
Reporting and analytics tools, providing valuable insights for business decision-making.
Multi-store management functionality, ideal for businesses with multiple locations.
Integrated payment solutions, ensuring smooth and secure transactions.
Customer management features, promoting effective customer relationship management.
Omnichannel selling options, expanding the business's reach to a broader audience.
Onboarding and support services, facilitating a smooth and hassle-free setup process.
Pros:
Robust inventory management functionalities, ensuring optimal stock control.
Excellent customer service and support offerings.
Capabilities for seamless integration with other systems and tools.
Cons:
Higher pricing may be a drawback for budget-conscious businesses.
The requirement of an annual contract might limit flexibility for some merchants.
Square
Established in 2009, Square has become a go-to choice for small businesses seeking reliable POS hardware and software, including restaurants and retail stores. Suppose you are an online small business or a start-up boutique. In that case, Square offers the ultimate POS system that caters to your specific needs, thanks to its flexibility and various pricing options.
Key Features:
Barcode scanning for efficient inventory management.
Invoice and electronic gift card options to enhance customer experience.
Instagram selling capabilities, tapping into a wider audience.
Real-time view of low and out-of-stock inventory for proactive restocking.
Detailed sales reports for business insights.
Time tracking and timecard reporting for employee management.
Pros:
Robust free option for online sales, making it budget-friendly.
Easy inventory tracking and streamlined stock management.
Integration with various payment systems for seamless transactions.
Cons:
Expensive processing fees for businesses with high sales volumes.
The free option lacks advanced features, potentially limiting functionality.
Extra fee for a loyalty program, adding to overall costs.
Additional devices and users incur higher expenses.
Transaction fees increase with the number of orders processed.
Since its inception in 2004, Shopify has been a trusted provider of effective online shopping services, enabling eCommerce business owners to deliver a satisfying digital customer experience. It offers the ideal POS system for eCommerce boutiques, complemented by powerful virtual features.
Key Features:
Efficient order and product management for seamless operations.
Detailed customer profiles, fostering personalized interactions.
Integrated credit card processing, ensuring secure and convenient payments.
Quick response (QR) codes enhance the customer purchasing experience.
Custom discounts and discount codes for flexible promotions.
Pros:
No extra transaction fees above interchange rates, promoting cost-efficiency.
Abandoned cart recovery comes with every plan, helping to recover potentially lost sales.
Plug-and-play hardware for easy setup and usage.
Suitable for businesses of all scales, from small boutiques to larger enterprises.
Cons:
Limited staff login, e.g., only 2 staff members can access the POS with the Basic plan, which might be restrictive for larger teams.
Limited inventory locations may be a drawback for businesses with multiple storage points.
Vend
As a reputable clothing store POS system supplier, Vend has earned its place as a preferred choice due to its user-friendly interface and adaptability to various hardware setups. It stands out as one of the best POS systems for retail businesses, primarily attributed to its sophisticated inventory management and powerful analytics capabilities.
Key Features:
Real-time inventory management, ensuring accurate stock tracking.
No limits on the number of products and employees, accommodating businesses of all sizes. Customizable email or print receipts add a personal touch to customer interactions. Total cash management for streamlined financial control.
Inventory control levels, enabling efficient stock organization.
Easy-to-personalize reports, providing valuable business insights.
An easy-to-use mobile dashboard, allowing on-the-go management.
Pros:
No limitations on the number of products, offering flexibility for businesses with an extensive inventory.
Capability to work in offline mode with limited functions, ensuring uninterrupted operations. User-friendly interface, making it accessible to all staff members.
Cons:
Comprehensive software requires purchasing the upper-tier plan, which may be costly for some businesses.
The addition of registers can lead to increased expenses.
Revel
Revel sets itself apart by offering highly customizable clothing store POS systems functions that can meet virtually any retail industry requirement, from integrated eCommerce to efficient delivery management.
Key Features:
Offline mode of payment, ensuring transactions even without an internet connection.
Easy integration with third-party systems, expanding functionality options.
Intelligent reports for data-driven decision-making include labor versus sales and employee activity.
Real-time inventory updates, providing up-to-the-minute stock information.
Purchase order management and preparation, streamlining inventory replenishment.
A programmable loyalty system, enhancing customer retention efforts.
Access to open APIs (application programming interfaces), enabling seamless integration with other applications. 
Individualized client service, ensuring personalized support and assistance.
Pros:
Comprehensive reporting features, offering valuable insights into business performance.
Suitable for stores with multiple locations, making it scalable for growing businesses.
Tailored packages designed to cater to the specific needs of each business.
Free API usage, promoting seamless customization and integration.
Cons:
Long-term subscriptions may be required, limiting flexibility for some businesses.
Cost may be prohibitive for small companies with tight budgets.
A minimum purchase of two terminals might be necessary, leading to increased initial investment.
Conclusion
From advanced inventory management to seamless transactions, the clothing store POS system offers the tools necessary to elevate clothing businesses to new heights. By making an informed choice that aligns with specific business needs, the owners can optimize operations, enhance customer experiences, and stay competitive in the ever-evolving retail landscape of the UK. In case you require any additional information, feel free to contact us.
---
►►► See our products: Magento POS, BigCommerce POS, Shopify POS, Woocommerce POS, Restaurant POS, NetSuite POS, Thailand POS, South Africa POS and Commercetools POS