By this time, we hope you are all acquainted with what a point-of-sale (POS) system is and how it benefits all types of businesses of all sizes. However, what makes a great POS experience seems to remain as vague as a coin at the bottom of a well. So, in today's article, let's go to the very bottom of that well and unveil 6 factors that enrich a POS experience for business owners.  
User-friendly software and interface
The learning curve is one of the toughest obstacles that makes business owners hesitate to adopt a POS system. And if you have to spend an enormous amount of time training your staff repeatedly, there's a high chance that your current POS system is not user-friendly enough. 
The whole point of adopting a POS system is to create a smooth and seamless experience for your customers and employees. That's why a great POS experience is a must to ensure the positive attitude of your staff and proper customer service. This results in higher customer satisfaction ultimately.  
A great POS experience is created by an easy-to-learn, easy-to-handle POS system with straightforward and meaningful software, a well-managed and handy interface, and appropriate hardware. 
Additionally, a POS experience can be enriched by customization. By letting business operators customize their POS system, business operation management becomes easier, more flexible, and more intuitive, which helps save lots of time and money on getting used to the system. Some key features:
Custom receipts: Business operators can design their own receipts with their logos, contact information, and personalized messages. This can help build brand awareness and customer loyalty.
Customized dashboard: With it, you choose what information you want to see on your POS screen, for instance, sales data, inventory levels, customer profiles, and more. This can help you monitor your business performance and make informed decisions.
Custom sale note: You can add notes to each sale transaction, such as customer feedback, special requests, or delivery instructions. This way helps improve your customer service and communication.
Customized quick key: This allows you to create shortcuts for frequently sold items or services on your POS screen. Thus, you will speed up the checkout process and reduce errors easily.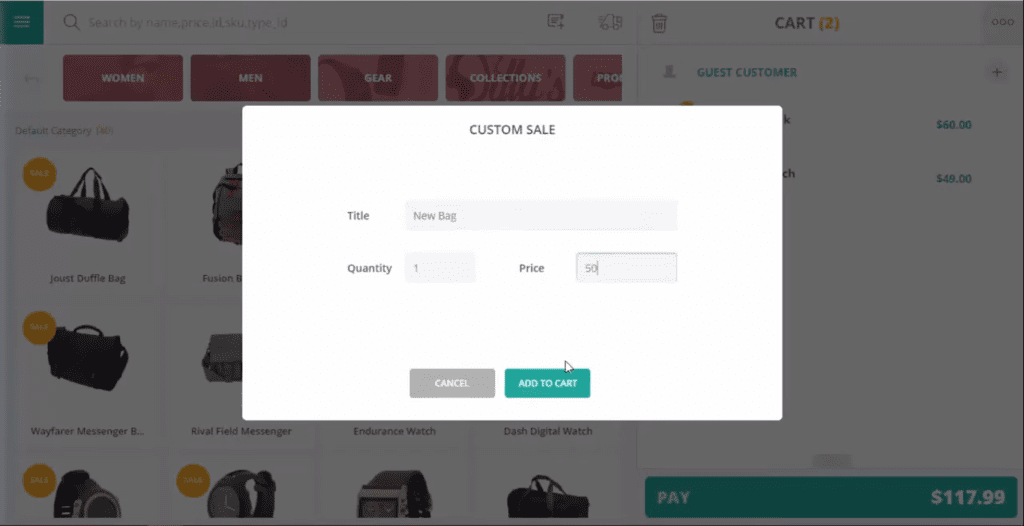 High-speed transaction time
It is a fact that the speed of your transactions, or lack thereof, will have a huge impact on your business in many ways.
To customers, "long line" destroys their shopping experience as it is the second most common complaint of consumers against retailers. According to research, on average, the maximum acceptable time consumers are willing to wait in a line is 10 minutes. Does your check-out take more than 10 minutes? Your customers will abandon their shopping. To you as a business operator, long lines make your clerks frustrated, causing poor customer service and increasing human errors. 
Therefore, a high-speed transaction time, especially during check-out, is critical to ensure a smooth POS experience. And a fast and reliable POS system will help you make your day at work at ease. Some POS features that facilitate a quick check-out process are:
High-speed scanner and card processor: This POS experience means customers can scan and pay for their items in a matter of seconds, which reduces the waiting time and improves the customer experience. According to a study by Mastercard, 80% of customers prefer to use contactless payments for speed and convenience.
Self check-out process: This feature enables customers to scan, bag, and pay for their items without the assistance of a cashier, giving them more control and flexibility over their shopping. A report by IHL Group shows that self-check-out terminals can increase sales by up to 30% and reduce labor costs by up to 40%.
Customized quick-key: With it, your cashiers can create shortcuts for frequently purchased items or categories, which saves them time and effort when ringing up sales. For example, a quick key for "coffee" can include options for different sizes, flavors, and add-ons. As per a survey, 62% of retailers use customized quick keys to speed up transactions.
Digital receipts: This allows shoppers to receive their receipts via email or text, eliminating the need for paper receipts that can be lost or damaged. These receipts also allow retailers to collect customer data, send marketing messages, and encourage repeat purchases. A study by Epsilon reveals that 83% of customers are willing to share their email addresses for a digital receipt.
Search products quickly by name, ID, SKU, or barcode: Thanks to it, cashiers and customers can find products easily and accurately by typing or scanning a keyword or code. This can help avoid errors, out-of-stock situations, and price discrepancies. According to a report by Zebra Technologies, 73% of shoppers want self-service options to check product availability and prices.
High-security level
Security has been a burning issue lately, as we've all seen the news reports about retail fraud, beginning at the POS system. Fraud is a major issue in the US, partly due to the lack of proper security measures built into many POS systems. 
Is that getting on your nerves right now? Don't worry! Nowadays, with the innovation of technology, many POS providers are now developing better hardware and software features to address these concerns. You don't have to be a security expert to choose a relatively secure POS solution. Here are some tips for you to choose a secure POS system for your business:
Make sure that your system is PCI DSS compliant (Payment Card Industry Data Security Standard)
With new technologies like mobile wallets, look for a system that provides the hardware to accept these types of secure transactions
Find a card company that enables you to accept EMV chip cards for added security
Find out more about some secure and transparent payment solutions providers here!

Real-time synchronization and Accurate data
Real-time synchronization is particularly needed since a POS system is supposed to manage multiple stores and inventory simultaneously. Data from all platforms need to be synchronized to ensure a proper POS experience. Technically, it is like this: when an order is placed, the stock level will be immediately deducted from the warehouse assigned to that store. Accordingly, the available quantity shown on your online platforms also changes in real time. By that, selling an already out-of-stock product can be avoided. 
Real-time and accurate reporting is also crucial to a meaningful POS experience. The previous articles discussed how real-time synchronization helps with multi-store management. However, if your reports don't reflect accurate information or your system doesn't provide the data in real-time, then it's not that useful. Particularly for cloud-based POS software, if it is tricky for you to access your data wherever and whenever you want, it's not very beneficial to your business. 
Omnichannel experience
To create an omnichannel experience in POS for both you, as business owners, and your customers, Click-and-Collect is a useful POS feature that allows buyers to buy online and pick up in-store. 
In terms of customers, click & collect helps them shorten their shopping time while having more time browsing around, considering many different products. Particularly when COVID-19 puts human interaction at risk of spreading the virus, this feature creates an even more meaningful POS experience. 
When it comes to business operators, this feature benefits them in more than one way:
The chance to upsell: When the customer comes into one of your shops to collect, they will be more inclined to buy extra goods.
More online sales: Many consumers love ordering via click & collect as it means they purchase quicker and at a time that suits them. 
Cost savings: Offering a click & collect service is great for this as you will cut down your delivery costs.
Moreover, other features, including refund and exchange, also need to be flexible, such as customers can buy online and refund or exchange in-store. 
Timely support
Even though we have all discussed why a POS system needs to be user-friendly to ensure a great POS experience, there will still be a time when you need support. It is a fact that most business owners fail to realize that when your business is in full swing, you will be spearing yourself too thin to have time to troubleshoot POS issues by yourself. Even worse, once your business is built around a POS system and depends heavily on making sales, a POS problem is not something you can put off until tomorrow. 
Therefore, to have a great POS experience, find yourself a POS provider that offers 24/7 support. A decent POS solution company is the one that provides the right support, regardless of the day and time, regardless of whether you are a good old customer or a new user.
All-in-one POS software
User-friendly software and interface, high-speed transaction time, high-security level, real-time synchronization and accurate data, omnichannel experience, and timely support are the 6 factors we believe to create a great POS experience for business operators. We know what you're thinking about. It must be perfect to have POS software that includes all of the above aspects. Well, we are right here! At ConnectPOS, we are proud to have all of the sources and abilities to provide you with one of the most technology-advanced cloud-based software for your too-good-to-be-true experience in POS. Contact us, or book a free trial for further assistance!
---
►►► See our products: Magento POS, BigCommerce POS, Shopify POS, Woocommerce POS, Restaurant POS, NetSuite POS, Thailand POS, South Africa POS and Commercetools POS