A domain is one of the first things retailers should get down on their list in order to start an eCommerce store. The domain name, or URL, is the website's address, which users can customize to represent their businesses best. Shopify is among the big eCommerce platforms that enable merchants to create their own domain name within a few clicks. Being easy to build doesn't also mean it is simple to delete. In this article today, we would like to show you a few tips on how to delete Shopify-managed domains, which will help you to better manage your online businesses.
What Is A Shopify-Managed Domain?
As we have mentioned above, a domain (URL) is your website address where people can find your store among millions of businesses online. When you first create a Shopify account, users are asked to choose a store name. The Shopify system will automatically embed this name into the domain in the format https://yourstorename.myshopify.com. This is initially set as the primary domain.
Normally, there are three options to get a domain name – use a domain you already own, buy it with Shopify, or buy a domain from a registrar. If users don't have a preference for a domain registrar, buying a domain name directly through Shopify is easiest. The process is straightforward and the price is significantly competitive. The system will automatically set up your domain so that you don't have to get into setting up DNS records.
How To Delete Shopify-Managed Domain?
In order to fully remove the domain, Shopify users will need the support team to be involved. However, users can still disconnect the domain by themselves to avoid directing customers to the unwanted storefront.
To start, merchants should ensure that the auto-renew option is turned off so that it stops refreshing your domain even after you remove it. In the admin panel, users go to 'Online Store -> Domains -> Manage' to uncheck the auto-renew box as below:

The next step is to disconnect the domain from your online store. This could be implemented by altering the DNS setting, which is also found in 'Online Store -> Domain -> Manage'. It is located at the top of this page here:
Within these settings, remember to remove the CNAME, and change the A Record to be 0.0.0.0. Both tasks are initiated by clicking on the Actions dropdown next to the record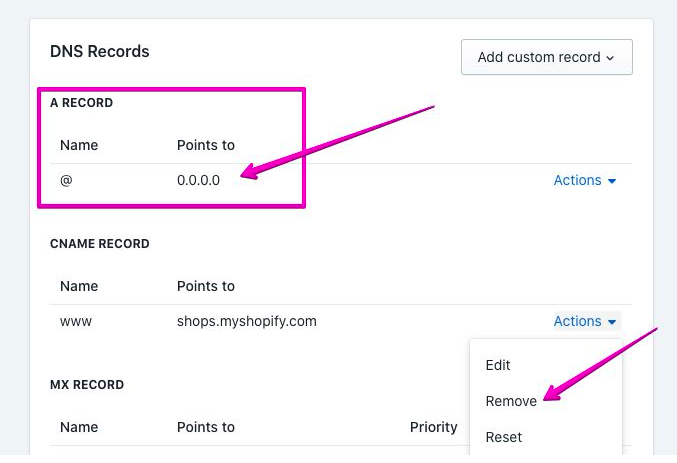 Once these changes are made, the domain is already disconnected from your store account and it will no longer direct customers to these unwanted storefronts. Hence, users can leave it on their accounts like the picture above. It will give them the flexibility to allow the domain to expire, reconnect it at another time or transfer it to another Shopify store in the future, if necessary.
However, if users still prefer to fully eliminate the domain and have no access to it anymore, they should contact Shopify Support for further assistance.
Wrapping Up
In this article today, we have shown you how to delete Shopify-managed domains from your eCommerce store. We hope this would be helpful for you to better manage your businesses in whatever way you want to. Check out our blogs to find out more tips on Shopify store optimization!
---
►►► See our products: Magento POS, BigCommerce POS, Shopify POS, Woocommerce POS, Restaurant POS, NetSuite POS, Thailand POS, South Africa POS and Commercetools POS