Shopify is one of the most powerful eCommerce platforms in the modern market, offering retail businesses various helpful features and ease of use. Businesses can easily set up their retail stores with just a few manipulations on getting started with Shopify platform by following the Shopify tutorial we have made in this article.
Steps to get started with Shopify
Choose a pricing plan
Shopify offers retailers 4 pricing, ranging from $29 to $2000 per month as you may see from the following table. And you should choose the package that best fits in with your business.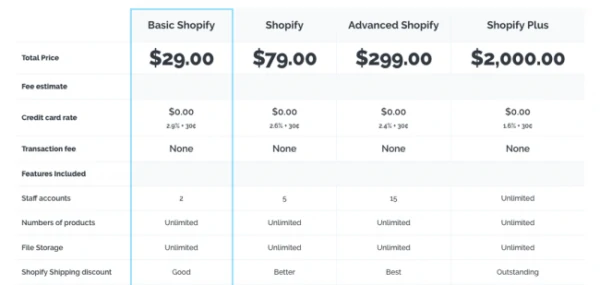 Sign up for Shopify
The very first and foremost step is having a Shopify account.
Visiting the Shopify website and clicking on the Get Started button then fill in your information to create your account.
Choose a theme
Initially, there is a default theme set up in the Themes page of your admin after creating an account with Shopify. If you want to change the theme, you are required to add another to the admin.
There two options for online retailer to add theme for your store, which are
Add a free theme from the admin
Buy a paid theme from Theme store
Add a free theme
From the Shopify admin, you should go to Online Stores and choose Themes.
The Free themes section will appear. Then, click Explore free themes, which is located near the bottom of the page. Subsequently, you are offered every free theme developed by Shopify.
Choose your stores a suitable theme and choose the Add button to add the theme to the Themes page of your admin.
Add a paid theme
To adopt a paid theme, you should go to the Shopify theme and choose a suitable theme.
Then choose the Try theme to preview your stores.
If you want to customize the theme, choose the Customize theme at the bottom of the page.
If you have found your expected theme, choose the Buy theme button.
Set up domain
First, online retailers are required to purchase a domain through Shopify.
Then you should enable auto-renewal in order that your domain will not expire by any mistake.
Then set up the domain as your primary domain to display it on the browser, search result as well as social media platforms.
In order to help your customers easily contact you, don't forget to set up an email forwarding your domain address.
Add products to your store
From the Shopify admin, you start with choosing the Products button and move to your Products page. Here, you click Add product.
The product page is somewhat similar to a WordPress website, where you can fill in every detail of your product such as title, description, price, vendor, images, prices, shipping details, weight, and more. These sorts of information will support you to find your products as well as support retailers to organize products later.
Finish this step by choosing Save product.
Conclusion
We hope that with the help of the Shopify tutorial, new retailers can easily and quickly create a Shopify retail store and gain first profit.
If you're planning to build an omnichannel Shopify business after setting up your store, it's important to integrate a POS system. And we think ConnectPOS will be the perfect choice for you! With real-time synchronization and multi-device compatibility, ConnectPOS supports a smooth click-and-collect If you have any further questions, don't hesitate to contact us!
---
►►► See our products: Magento POS, BigCommerce POS, Shopify POS, Woocommerce POS, Restaurant POS, NetSuite POS, Thailand POS, South Africa POS and Commercetools POS