Retailers with omnichannel businesses today have a lot of choices for their POS systems. In this article, let's go through a comparison between ConnectPOS vs Oliver POS to see what interesting differences are between an all-platform POS solution provider and a WooCommerce-specific POS plugin.
Overview ConnectPOS vs Oliver POS
ConnectPOS
ConnectPOS is an all-in-one cloud-based POS system provider for all popular e-commerce platforms nowadays. In the commission to create a seamless shopping experience in omnichannel business, ConnectPOS now integrated with: 
Magento
Shopify
WooCommerce
BigCommerce
With a diversified range of outstanding features, ConnectPOS is always a trusted partner with thousands of retailers around the world.
Oliver POS
This POS system is located in Canada and is significantly designed for WooCommerce platforms. Therefore, the target audience is WooCommerce users, which is quite the opposite of ConnectPOS which has a larger customer segmentation coming from any platform.
The main function of Oliver POS working as a plugin in WooCommerce, which means it's always in sync with:
Products
Product Inventory
Customer
Order
Setting
Compatibility
These POS systems work well and are compatible with PC devices (Windows & macOS) and mobile devices (iOS & Android).
However, along with the operation of Oliver POS working as a WooCommerce plugin, it will only allow staff to interact with the POS system, not customers. It might get a bit inconvenient when they can not see or double-check anything when making a purchase payment.
That problem will be solved softly with the feature Customer Second Screen of ConnectPOS. This feature allows customers to collaborate with the POS system easily and also creates a seamless experience.
Pricing Plan
ConnectPOS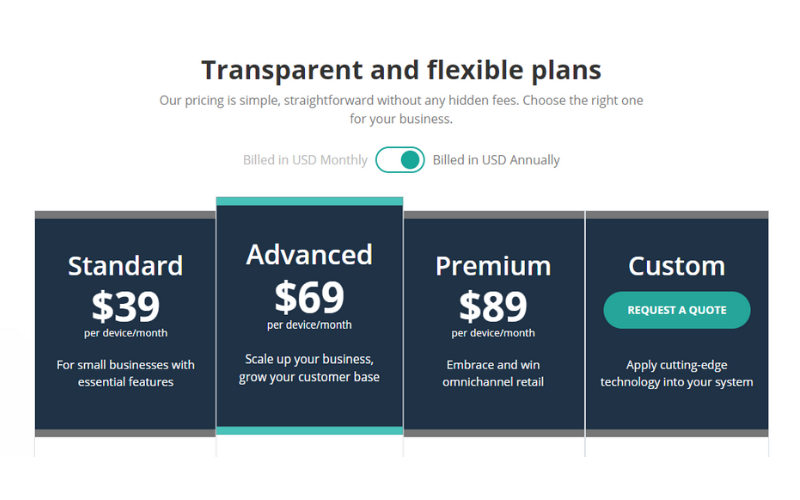 The pricing plans are more than one in order to suit any kind of business and serve different types of customers and you can choose to pay monthly or annually. Moreover, ConnectPOS offers a discount of $10 per month for each pricing plan if you pay annually ($39/month), which means you will reduce $120 per year.
There are various magnificent features that ConnectPOS offers in their pricing plan, including:
Real-Time Synchronization
Multiple Payments Method Support
Customer Second Screen Feature
Instantly Stock Update
Support 24/7
They also offer 14-days free trials to any new retailers. Let's try now!
Oliver POS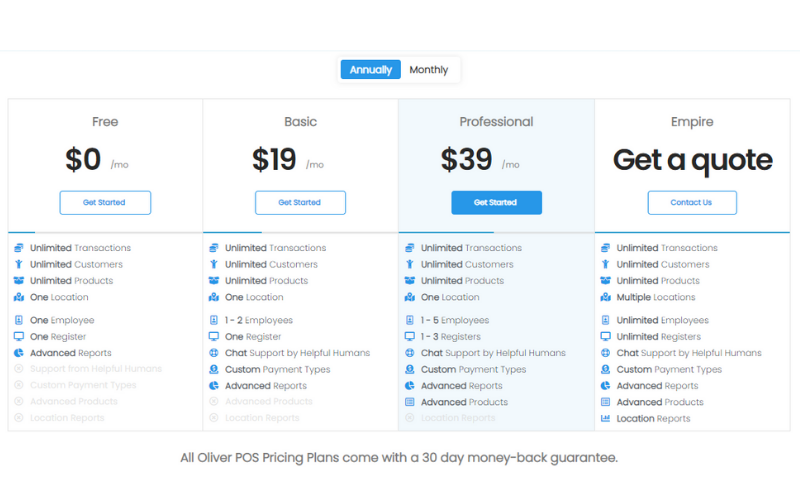 In contrast with ConnectPOS, this POS system has a free plan for pricing with limited features to compare.
This is easy to understand because Oliver POS is a WooCommerce plugin. If there is no free version, it will be difficult to compete with other plugin competitors in the market in the same segment.
If you are a newbie who runs a small shop with little operation cost, you can try a free version of Oliver POS. But in the long term of scale-up business, ConnectPOS will be the most suitable and stable for your business with a lot of supported features.
Feature
Real-time Data Synchronization
ConnectPOS
All of your transactions between your inventories and POS system will be directly updated to create a seamless connection. The data will automatically sync in your offline and in-house store which is:
Products
Orders
Customers
Tax info
Inventory and other settings.
ConnectPOS will sync that information directly and allow the change to be made on any device for any updated changes.
Oliver POS
The real-time data synchronization is also available in Oliver POS but it is not 100% working well as ConnectPOS do. There is still some time lag around 3-5 seconds when corresponding data between WooCommerce Inventory and Oliver POS.
In an omnichannel business, waiting for the system to connect correctly in the online and offline store may get a bit annoying for both registers and customers. If you are looking for a POS system that provides data synchronization automatically, then ConnectPOS is your solution.
Online & Offline Mode
ConnectPOS
In Online mode, retailers can easily create a seamless customer shopping experience. It supports customers to make orders online and pick them up in your physical store, which is more convenient.
The offline mode of ConnectPOS allows retailers to perform basic tasks even when the internet is broken, such as:
Creating Orders
Completing Transactions
Saving Customer Information
Oliver POS
Oliver POS still provides basic features that mainly focus on running processes smoothly in the small retail shops and they don't provide any offline mode.
Custom Order
This is a special feature that is only supported in ConnectPOS, not in Oliver POS. It allows retailers to create orders with products that are not available in stock. Additionally, it can save a draft order and retrieve it later when customers return. Quote management is also supported.
Integration
Payment Solution
ConnectPOS
ConnectPOS has already integrated with many secured payment gateways such as
PayPal
Tyro
Stripe
Payment Express
Moreover, they offer diverse payment methods, including but not limited to cash, credit/debit card, store credit, reward points, and gift cards. Besides built-in integration, ConnectPOS is always ready to customize the system to fit with your current chosen tools.

Oliver POS
On the other hand, Oliver POS offers the payment methods that include:
Mobile Payment
Credit Cards
Stripe
Apple Pay
Google Pay
They also offer using gift cards or store credits to make purchases and payments. Comparing two POS systems in payment solutions is both friendly and convenient for customers who choose to make payments. Let's say a draw in this part.
Loyalty Program
To build a close relationship with customers, ConnectPOS will lead ahead one point compared to Oliver POS. Oliver POS so far has not integrated with any loyalty programs which caused more inconvenience for retailers to engage with customers in their store.
Nevertheless, that problem will not be faced with ConnectPOS. The POS system is now integrated with a lot of popular loyalty programs such as:
LoyaltyLion
SLoyalty
Aheadwork
Amasty
With ConnectPOS, building a close relationship with your customers is never easier than it is.
ConnectPOS vs Oliver POS – Final Thought
In summary, Oliver POS will be appropriate for retailers who want to start with WooCommerce, but it seems not the best solution for the long-term period.
In the future of your business, the POS system you choose needs to be strong, and save time to manage everything in one place.
For these challenges, ConnectPOS will be the best solution for your scale-up business. ConnectPOS with real-time data synchronization, various payment solution providers, and other integrated loyalty programs will be the best support for your omnichannel business. Contact us for more consultation!
---
►►► See our products: Magento POS, BigCommerce POS, Shopify POS, Woocommerce POS, Restaurant POS, NetSuite POS, Thailand POS, South Africa POS and Commercetools POS