Acuity Scheduling helps deal with concerns such as time-consuming planning and managing appointments. It makes just about any aspect of appointment management automatic. Acuity likewise ensures online scheduling becomes easier for your clients. This is a plus point to book with you instead of your rivals. For more info about it, let's check out this post.
What is Acuity Scheduling?
Acuity Scheduling is a straightforward and intuitive scheduling solution that enables customers to realize real-time availability, make appointment bookings, and pay fast and easily. Notably, customers can make online payments through PayPal and others when they book an appointment.
Who is it for?
Acuity is most suitable for service-centered businesses asking their clients to plan appointments. It likewise suits those leveraging appointments. These are consultants, photographers, tutors, to name a few.
Also, should you be searching for a way to make processes automated and reduce time consumption, this solution is one of your best bets. It works with your current calendars and executes reliable tool integration. The tools include online payment software, email, accounting, etc.
One thing to note, Acuity Scheduling does not come with any point of sale hardware. Yet, you have the choice to integrate it with trusted POS hardware solutions. You may also want to make use of ConnectPOS. It is fantastic for firms searching for a POS system to streamline their business, handle stocks, and ensure improved inventory holding.
Notable features
Integrating calendars like Google
It is simple to sync this software's calendar with Outlook, Google Calendar, and whatnot. After that, add integrations for various business applications you prefer. For example, these can be Google Hangouts, Constant Contact, Mailchimp, QuickBooks, and so on.
Advanced preferences
When installing Acuity Scheduling, you will receive its guide on the way of displaying the times and dates of your availability. Later, it is easy to create different meeting types and further preferences via your dashboard.
Reporting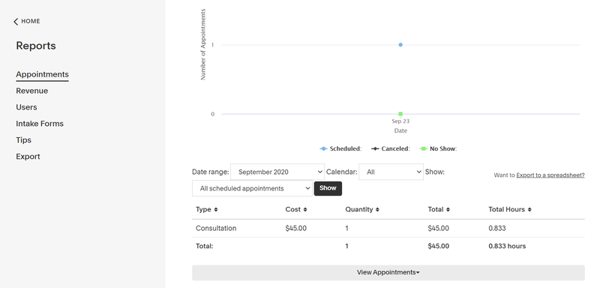 You can access many things using this solution's dashboard, for instance, get a report on meetings scheduled, cancellations, and revenue. You likewise like the option of making a custom intake form. This way, Acuity Scheduling works to collect and store client answers on your behalf.
SMS/ email notifications
Reduce time spent on sending emails by leveraging messages and reminder emails. The software offers templates you can customize for confirmation and as many as 3 reminders. It also delivers options for rescheduling and cancellation emails. Follow-ups are also accessible. For example, you complete the template and determine when to send the email, say one day following the appointment, and the system will help you do the rest.
Accepting payments from PayPal, Stripe, etc,
This software lets your clients make payments via Stripe and stuff from the scheduling page. They can also pay through PayPal.
Conclusion
Reduce the time and stress related to appointment booking with your clients. Allow Acuity Scheduling to do this part. This enables you to concentrate on other crucial business jobs. Should you need help with the POS system to be integrated into Acuity, please reach us for an individual quote.
---
►►► See our products: Magento POS, BigCommerce POS, Shopify POS, Woocommerce POS, Restaurant POS, NetSuite POS, Thailand POS, South Africa POS and Commercetools POS