Are you dizzy wandering around the market considering many different POS systems for your business? If you find yourself stuck in a rut, let us help you! In today's article, we'll put another pair of commonly used POS systems next to each other to see all the similarities and differences: ConnectPOS and Toast POS. Accordingly, you can be aware of their own advantages and disadvantages. 
Overview ConnectPOS and Toast POS
ConnectPOS
ConnectPOS, a cloud-based POS software, is a leading POS in the market. This POS system is famous for its pyramid of features facilitating the omnichannel experience for both businesses and consumers. It is suitable for businesses of all sizes, from merchants to service providers. ConnectPOS covers various industries such as Fashion and Accessories, Footwear, Food & Drink retail, etc. ConnectPOS is making transactions in both physical and digital stores easy and automatic. Most ConnectPOS clients are from Asia, the Middle East, America, and Australia. 
Toast POS
Toast is a web-based POS system that runs on Android operating systems only. The POS, which is popular among restaurants, is competitively priced compared to other restaurant POS systems. Its robust features support both the front and back of the house in a restaurant. Additionally, it also assists the customers to have more control over their ordering and checking out, and enhances the experience overall. 
In terms of restaurant sizes, Toast POS is best for small establishments (cafes, bakeries, food trucks, etc.). Nevertheless, with its advanced table mapping and menu creation, Toast POS can also handle any full-service restaurant well.
Compatibility
Compatibility with multiple platforms is one of the most crucial factors of a great POS system. The more devices that a POS can run on, the more flexible that POS is. 
ConnectPOS takes pride in its ability to be compatible with multiple devices regardless of operating systems. From desktops and laptops (macOS, Windows) to smartphones and tablets (iOS, Android), ConnectPOS can handle them all. Particularly, mobile POS is feature-rich and technologically advanced. Retailers can easily get access to the ConnectPOS mobile system through 3 entrances:
Download the ConnectPOS iPad app from the App Store
Install the PWA that is compatible with both iOS and Android
Through web browser in your mobile devices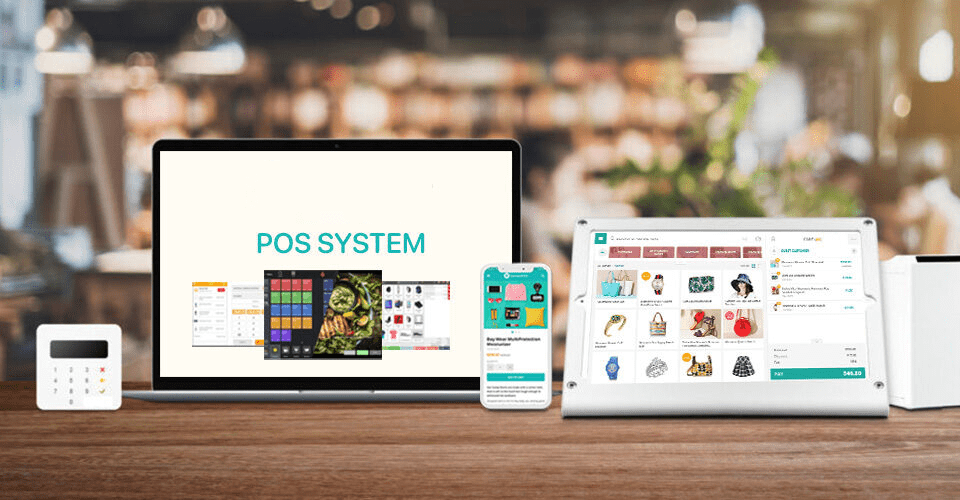 On the other hand, Toast POS is a particular POS system for business owners and operators who are Android lovers and tired of seeing iPhone or iPad literally everywhere. That said, Toast POS is a cloud-based POS software for Android devices, including smartphones and tablets.
In this era where it's easy to encounter the 'bitten apple' ubiquitously, being compatible with Android-based devices is a huge yet rare advantage of a POS system. The good news is that ConnectPOS and Toast POS offer this benefit for their users. However, if you have a deep love for iOS, or want a PC-based POS system, then ConnectPOS is a decent option. 
Furthermore, what makes ConnectPOS really stand out is the high technological application in the system, including AI facial recognition and interactive customer screen. Both of these empower customers to have more control over their shopping and improve their in-store experience. 
ConnectPOS AI facial recognition lets store assistants recognize old and new customers, review existing customers' information, and identify shoplifters.
Customers can interact with the ConnectPOS interactive customer screen in many ways, including reviewing shopping carts before paying, receiving last-minute recommendations, digitally signing, etc. 
Integration
E-commerce platforms
Being a robust POS system, ConnectPOS is partnering with multiple e-commerce companies to facilitate a seamless and secure operation for businesses. There are 3 popular e-commerce platforms that ConnectPOS works well on, which are Magento, Shopify, and BigCommerce. Additionally, the collaboration with WooCommerce, one of the favorites among businesses, is expected very shortly. Such a system won't let you down as it's gaining a lot of love and trust from merchants on these platforms. Its rating is 5/5 on the Magento marketplace and 4.6/5 on Shopify. 
In contrast, Toast POS hasn't yet integrated directly with any e-commerce platform. If you wish to have e-commerce integration with Toast POS, you need to seek help from third-party companies, which can be time-consuming and costly.  
Payment integration
Payment integration in POS is vital to ensure that your customers see their go-to payment options at the very last stage of their shopping. More importantly, it assures the security and transparency of digital transactions for merchants.
With that being said, ConnectPOS is trying hard to partner with many payment providers supporting a wide range of payment methods. No matter which payment options customers prefer, from cash, credit cards, debit cards, even gift cards, you can offer them all with ConnectPOS. Some payment processors worth mentioning are Paypal, iZettle, Authorize.NET, Moneris, etc. 
A slightly different case for Toast POS as this POS has its own payment processing system. Besides, it also integrates with Rooam and SpeedETab to offer safe and frictionless mobile payment for buyers. 
Either having payment integration in your POS or adopting the POS that builds its own payment processing system is a nice option. It depends on you and your business to decide which one is better. If you wish to have third-party payment providers handling your transactions, then ConnectPOS is just right for you.
Features
Order management 
This is one of the features to look for in an outstanding POS system. Offline mode allows stores to sell even when the internet connection is down or unstable. Thus, you can continuously make sales throughout the day without any interruption. And both 2 systems have this meaningful feature. 
ConnectPOS, with its robust and powerful offline mode, automatically switches your system to offline mode and normally conducts operation tasks when you lose your internet connection. Shop owners can quickly choose the items, manually insert the discount rate, and smoothly take any dummy payment with ease including cash, credit card, or debit card payment. And when you regain your internet connection, all the data acquired during offline mode is synced back to the whole system. At the end of the day, business owners and operators like you still have the full report with accurate and real-time data in the POS.
When it comes to Toast POS, its POS data (the menu and other configurations) is downloaded and cached on each connected device. That way, if the internet goes down, all devices can still function normally offline. Toast POS's offline mode allows you to continue to place orders, print tickets, and receipts, and take credit card payments until the connection recovers. In addition, you can also:
Send orders to kitchen printers
Print customer receipts
Open cash drawers
Enter credit card or non-cash tips onto payments
Just imagine you are handling a transaction and something suddenly happens to prevent you from completing the order. What would you do? Would you abandon the whole cart and go on with the next customer, or would you wait to finish it? What about adopting a POS with a handy and helpful feature in such a situation, so-called 'draft order'. 
Both ConnectPOS and Toast POS offer this feature. From a draft order, you could add items, discount to that cart so the order could be completed without having to enter all of that information again. 
Check-out process
ConnectPOS uniquely offer this feature with its robust PWA consumer app. Buyers can access the PWA consumer app simply by scanning a barcode and opening up to many handy functionalities. The most outstanding one is self-check-out which helps customers skip the counter and save a lot of time. Besides, this feature also speeds up the check-out process for stores, resulting in better business performance. 
With Toast POS's restaurant self-ordering kiosks, store assistants can create a quick-and-easy ordering and self check-out process for customers. The kiosks give guests the freedom to customize their order with available add-ons and modifiers. They can pay right on the kiosks by contactless payment options. And when their order is ready, they get an update through SMS text. With that being so, restaurants can reduce wait times since there's no need for guests or cashiers to run back-and-forth.
Receipts are important to every business as not only they contain all the fundamental information of transactions but they are also a part of a brand's CIP (corporate identity program). They are also great marketing opportunities for merchants. Thus, having custom receipts is important and critical for business success.
Both ConnectPOS and Toast POS are integrating this feature in their POS software. In these 2 POS systems, receipts can be printed or emailed to the customer. But more crucially, the receipt template used can be customized and adjusted. Retailers can customize receipts to their liking. They can even enhance them by adding links to your store's social media accounts or holiday greetings. 
You can customize your receipt easily and flexibly with both ConnectPOS and Toast POS. Thus, we guess that it's a tie for both systems in terms of this feature.
Reporting system
Reports matter to all businesses. No matter if you're a retailer or restaurants, keeping track of your business in all elements and aspects is critical to ensure a successful and profitable commerce business. That's why a proper and accurate reporting system in POS is vital.
With ConnectPOS, business owners and operators can get more than 20 comprehensive reports. The data are gathered from all channels including your multiple stores (both online and offline) and multiple warehouses. Since ConnectPOS is a cloud-based POS, it allows you to monitor your business remotely as all data is synced into one single central advanced reporting system. Even better, you can access reports anywhere anytime on any mobile device with ConnectPOS mobile POS. This offers such a flexible and convenient way to manage a business.
Key functions:
Customizable dashboard: Get all critical metrics in a clear dashboard with advanced options and built-in filters. View reports from your offline and online stores in one place.
Cash float: Easily monitor all cash register adjustments and staff changes throughout the day.
Export reports: Export data to a CSV file for further analysis or send reports to your accountants.
With Toast POS, since it's a restaurant POS system, business owners and operators can have access to some specialized report types other than the ones that every POS offers. The Toast's reporting system includes:
Accounting reports
Kitchen reports
Sales reports
Menu reports
Labor reports
Finance reports
Cash reports
Both ConnectPOS and Toast POS provide comprehensive and accurate reports with data gathered from all touchpoints and on a real-time basis. However, because of the differences in each industry, you should bear in mind this distinction to be able to choose the right POS for our business.
Customer supports
Retailers can easily report a bug to ConnectPOS 24/7 in 4 ways:
Submit a ticket via the ConnectPOS help desk.
Can also find this link by navigating to the menu bar on the top of the ConnectPOS website and click "Support". When you submit your ticket, you can set the priority of your problem as Normal/ High or Urgent.
Directly send an email to

[email protected]

.
Talk to ConnectPOS Solution Managers who have been in touch with you. They will summarize your problem and send it to the Developer team.
Restaurant operators can always seek help from Toast POS through:
Read Toast POS's helpful articles.
Access Toast POS's knowledge base.
Directly contact the sale or customer care team via phone.
Pricing plans
In terms of pricing plans, it can be seen that ConnectPOS is considerably more affordable than Toast POS. You can start at $US39 with ConnectPOS compared to $US69 with Hike POS. Even better, ConnectPOS offers custom plans for you to "DIY" your own POS system to suit your business's needs and demands, and your pocket as well. You can request a quote to be contacted by the sales team to discuss and negotiate further for the best outcomes.
Both of the 2 POS don't provide free plans.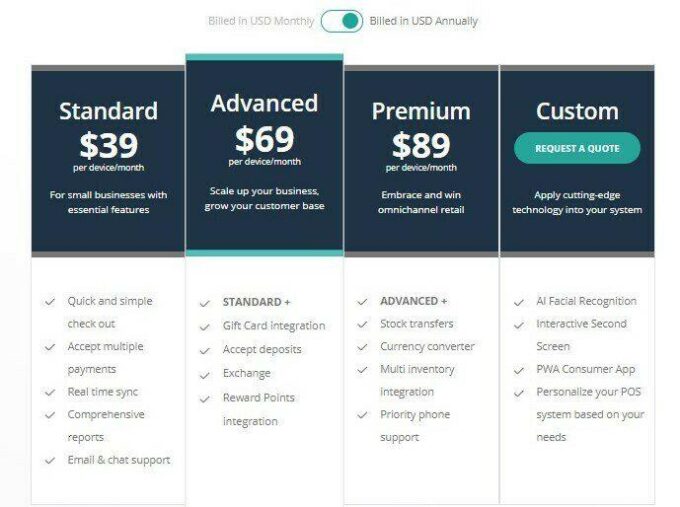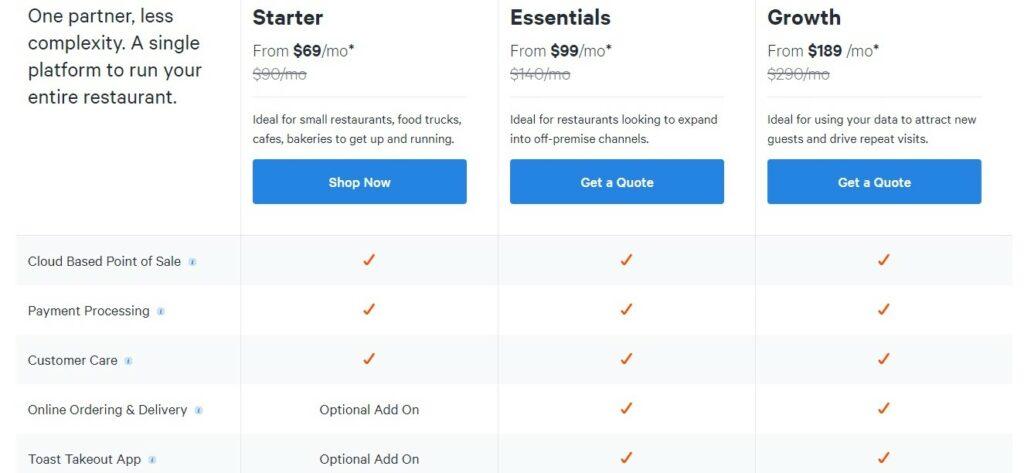 Other than the 'All-in-One Point of Sale' pricing plans above, Toast POS also offers separate pricing plans called 'Digital Ordering Solutions' for restaurant owners who want to expand their business to the online space.
Have you seen the potential?
As we're reaching the end of today's journey really soon, we hope you could see the potential in the 2 POS systems discussed earlier in the article. We need to acknowledge that both are decent and ideal for their own industry. If you're running a restaurant, then Toast POS is suitable for you. On the other hand, if you're looking for a Food & Drink retail POS, ConnectPOS is just right. Yet, if you still feel like needing more help, don't worry, we, ConnectPOS, are always here for you!Contact us to speak to our POS experts and receive insightful advice. Or book your 14-day free trial now to experience our global standard product immediately!
---
►►► See our products: Magento POS, BigCommerce POS, Shopify POS, Woocommerce POS, Restaurant POS, NetSuite POS, Thailand POS, South Africa POS and Commercetools POS