Grand Judaica: Breezing Through Tax Configuration With A Robust POS
How ConnectPOS has helped a book store in the USA tackle taxes varying from region to region with a powerful multiple tax levels POS feature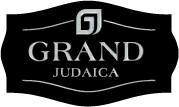 Yosef Heinemann established Grand Judaica to serve people from all levels of knowledge and observance of Judaism. There are many things you can find on the website and his physical store, from Judaic books, ritual items, gifts to seforim, mezuzahs, and wedding packages. Yosef commits to providing his customers with a great experience, whether they purchase online or at the store.
The Quest To Find The Suitable POS System
For the eCommerce website on Magento 2, Yosef and his team have put time and effort into making sure that taxes are configured right. For his book store in Ohio, Yosef hoped to find a Point of Sale (POS) software that could integrate with Magento and let him streamline all the settings, especially products and taxes from Magento to POS directly. The first POS system Yosef went for didn't meet his expectations. In fact, he was quite frustrated because it was slow and unstable, especially when it came to taxes and inventory. After the trial period, Yosef decided to use Magento POS by ConnectPOS.
ConnectPOS synchronizes all the tax rules from Magento and applies them in POS, even in Offline Mode. Since Grand Judaica is based in Ohio, the Ohio tax is applied automatically to guest customers and any customers who purchase directly or pick up at stores. If a customer requires home delivery, the applied tax will be based on the shipping address, just as how it works on the website of Grand Judaica. Besides full synchronization with tax settings in Magento, ConnectPOS gives Yosef flexibility to set prices and apply suitable tax classes for new items available at the physical store but not on Magento yet. In Yosef's case, he chose Taxable Goods for the Custom Sale products. The tax rules are applied in real-time and calculated directly in POS instead of on Magento, so customers don't have to wait long for the orders to be completed, even when the book store experiences some interruption in Internet connection.
Expecting A Significant Growth In The Near Future
With the new POS system in place, Yosef is freed from worries about the system not working correctly and causing inconvenience to his customers. He can focus on expanding his business to serve his community better and anticipates the sales can increase by 10% to 15% in the next quarter.